Tasty Marinara Sauce in Six Minutes
Yes, I know you can buy a jar of marinara sauce that means you will have sauce in NO minutes – but hear me out.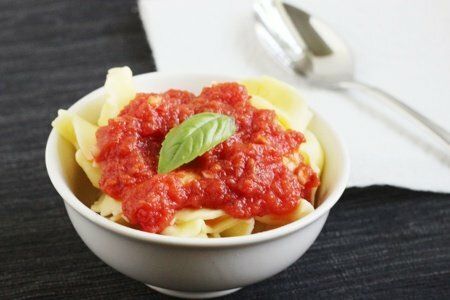 After many years now of eating less processed food, I have trouble with eating jarred tomato sauce (though I do buy it from time to time). I find it difficult to find one that doesn't have added sugar or doesn't taste too salty.
What happens when you eat mostly fresh food is that you begin to crave it. Some brands of spaghetti sauce taste like ketchup to me – yuck!
But, I don't want to spend lots of time peeling tomatoes, cooking them down, and grinding them in a food mill. I have made tomato sauce from scratch and I inevitably get covered in sauce, sweating up a storm. No, this is not for me.
I am here to tell you that there IS a middle ground.
All you do is sauté a little garlic and spices in olive oil, add a good quality can of crushed tomatoes, and (secret ingredient) lemon zest and you will have a sauce that tastes quite good – much better than jarred sauce and (wait for it)….less expensive. Hurray!
Lemon zest is made from the outer, yellow section of the lemon. You can use a zester to scrape off the zest or you can peel it off with a vegetable peeler and mince it with a knife. Lemon zest gives this sauce a POP of flavor.
You can freeze it or use it in a week. I put this sauce on pasta, pizza, roasted vegetables, rice, whatever. Half a cup has 12% of your daily value of iron – you can't go wrong.
Do you make your own tomato sauce? How do you do it?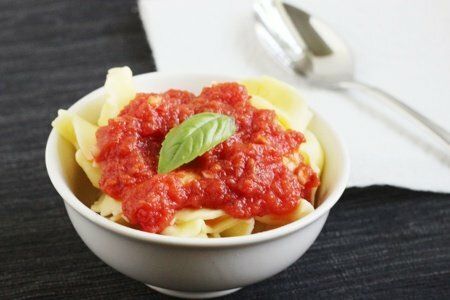 Six Minute Marinara Sauce Recipe

Makes 3 ½ cups, ½ cup per serving

Ingredients
2 tablespoons olive oil
½ teaspoon red pepper flakes
½ teaspoon salt
3 cloves garlic, peeled and minced
1 teaspoon dried oregano
1 25-ounce can crushed tomatoes
1 teaspoon lemon zest, minced

Instructions
Put olive oil, red pepper flakes, salt, garlic and oregano in a cold saucepan. Heat to medium and sauté for one minute without browning the garlic. Add the crushed tomatoes, stir, and heat until simmering for about five minutes.
Remove from heat and add lemon zest. Serve immediately or store for later consumption.
Nutrition Facts
For ½ cup = 65 calories, 5.0 g fat, 0.7 g saturated fat, 5.4 g carbohydrates, 3.1 g sugar, 1.2 g protein, 1.6 g fiber, 200 mg sodium, 2 Points+
Points values are calculated by Snack Girl and are provided for information only. See all Snack Girl Recipes
Other posts you might like:
---

Want your pasta to be zero calories and still taste like pasta? Maybe I have found a solution....
---

Snack Girl is delving into the world of the zero calorie noodle. You heard me, ZERO calories....
---
---
Get Free Email Updates! Yes please!
---