Challenge is Half Done: How are We Doing?
The Snack Girl Challenge is half way finished. Six weeks down and 6 weeks to go. I am going to lead off with my numbers this week.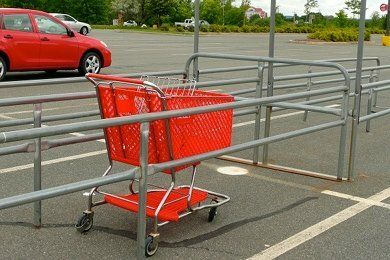 How did I do?
---
Six Weeks
173 pounds - (-4 pounds)
38 inch waist - (- 4 inches)

---
It seems my lucky number is 4! (going to play the lottery right now!)
I lost 2 pounds and 1/2 an inch for the second week in a row. It feels like a miracle, and I kept checking last week to see if those 2 pounds were real or just a scale failure. But, yes, I have lost 4 pounds and it took me six weeks.
My goal is 10 pounds by July 31st and I have a shot!
The real success will come if I can keep them off, and I won't be like Oprah who heralds her success (and then gains it all back). I promise to be honest if I gain them back because this is not about losing weight - but about creating new habits.
So, why the photo of the shopping cart? Notice all of the parking spots around the cart. Well, a new habit that I am adding to my fitness regime is to park FAR AWAY from the shopping mall or supermarket.
I used to live in a city. Every day I would walk somewhere to do my errands. My post office, supermarket, dry cleaner, and hardware store were all a short distance away. I would then carry all the stuff I bought back to my house.
Not any more! Now, I live in a place where I have to drive EVERYWHERE. That exercise that I used to get as just part of my day is gone. What to do?
Park out here in "no people land". The benefits include less dings on my car, and a reduction in use of fossil fuel. It doesn't take me much longer to go to a store because I save time looking for a parking space (and stress too!).
My final addition to my new habit is to NOT use that shopping cart. Unless I absolutely have to, I leave the shopping cart behind. Why?
1. I will buy less stuff (too easy to chuck stuff in a cart).

2. I get exercise carrying the stuff that I do buy all the way back to that car.

I do this at the grocery store all the time. I bring my own bag with handles and then I fill it up with food as I run through the store. My store has this automatic scanner that you can use to scan stuff as you shop.
It is kinda fun to see how much I can carry.
How do you add exercise to your day?

Want to read about snacks?
Potato Chip CRUNCH For One Calorie
How To Choose Healthy Peanut Butter
63 Calories of Salty, Sweet, Sour, Spicy and Veggie Goodness for a Dime
Snack Girl Recharges Her Batteries