63 Calories of Salty, Sweet, Sour, Spicy and Veggie Goodness for a Dime
After writing about Parmesan Corn Recipe, I felt bad about adulterating corn into a high calorie food. Parmesan Corn Recipe is a GREAT snack, but not the best choice for us who are watching our weight.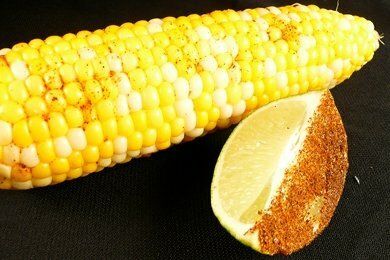 So, I was talking to Ron, my carpenter, and he shared that he has lost 20 pounds in the last year! How did he do it? He cut back on the beer (also a problem of mine) and joined a gym.
The guy also eats healthy food. He gave me his favorite fresh corn recipe. And, he promised that I would NEVER put butter on my corn again. Is that possible?
So, he takes chile powder, salt, and a lime and makes this fabulous tasting concoction. The sweetness of the corn and the combined flavors of lime, salt, and chile make for an explosion of flavors - and only 63 calories!
Right now in my supermarket, fresh corn is arriving and they are 10 ears for one dollar! Isn't that crazy? Think of all the people you could feed for that amount. This would make a great inexpensive and elegant party snack.
I have a frugal friend who will purchase a case of fresh corn, shuck them, and slice off all of the kernels into freezer bags. She has a big freezer in her basement and she will have fresh corn for months!
Don't forget that corn is a good source of many nutrients including thiamin (vitamin B1), pantothenic acid (vitamin B5), folate, dietary fiber, vitamin C, phosphorus and manganese.
Go waste a $1.50 on 10 ears of corn and a lime - and get cooking!
---
Chile Lime Corn Recipe

(serves 4)
4 ears corn
1 lime
1 teaspoon salt
1 teaspoon chile powder

Put a large pot of water on to boil. Shuck corn. When water is boiling add corn and cook for 4 minutes. Remove and place on plate Slice lime into 4 quarters and mix salt and chile powder in a small bowl. Dip lime into chile-salt mixture. Squeeze lime onto cooked corn and enjoy!
63 calories, 0.9 g fat, 13.9 g carbohydrates, 2.4 g protein, 2.0 g fiber, 592mg sodium, 2 Points+
How do you serve your ear of corn?
Want to read about snacks?
DIY Popsicles: A Happy, Healthy Snack
Healthy Beach Snacks
McDonald's Burger Left for Two Weeks
What NOT To Have For Breakfast