One of These Bagels Has A Skinny Secret
Snack Girl lives in the North Eastern United States or as it is called " the bagel corridor". Yes, there is a fresh bagel chain here called Bruegger's and it is pretty good.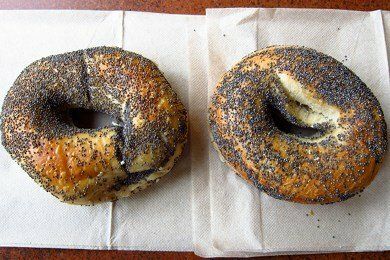 While visiting their store, I saw something very exciting! "America's Best Bagel goes Skinny", the sign proclaimed. Wow!
This is exactly what I need - a smaller bagel so my bagel TREAT isn't a monster. So, I ordered the bagel thinking I would get a the smaller bagel of yesteryear.
You see a regular bagel is 310 calories - which is equivalent to THREE pieces of toast. Twenty years ago (before I was born :), a bagel was only 140 calories (see: Portion Size, Then vs. Now) - a few more calories than one piece of toast.
So, I ordered a skinny poppy seed bagel and this was what I received: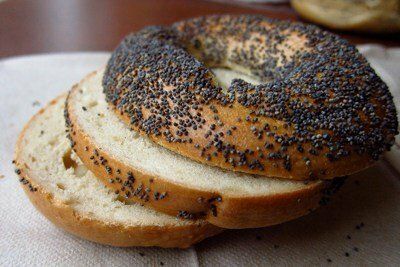 Do you see how there are THREE slices? That middle slice is the innovation to make it "skinny".
Bruegger's staff tosses out the middle slice and that is how they make a 210 calorie skinny bagel (instead of regular bagel's 310 calories). And, yes, you pay the same amount for a 2/3 bagel.
I stopped them before they tossed out that slice because I just can't waste food like that. I asked them, "What do you do with the middle slice? Compost it, feed it to birds, send it to a food bank?" But, they just toss it in the TRASH.
Okayyyy.
Why doesn't Bruegger's just make a smaller bagel? Clearly, that MUST be too much trouble - they probably make more money by just throwing away food.
How about bagging the extra slices and selling 10 for $2? Or just giving the person who bought the skinny bagel the extra slice to give to a friend?
As you can tell, I am upset that my quest for a healthier bagel results in food waste.
There are hungry people in my town and I just can't justify tossing away food like that.
I could just buy a regular bagel and only eat half of it - 150 calories of bagel is a very reasonable portion size. My problem (and one that Bruegger's has identified) is that I don't have the will power not to eat the whole thing.
Yes, I have tested the EAT HALF idea with the bagel above - and, guess what? - I ate all of it.
My suggestion is to find delicious mini-bagels (haven't found them yet) or just keep your bagel treats to a minimum.
I will send this post to Bruegger's with the hope that they will change their "toss the middle slice in the trash" policy.
Have you seen skinny bagels?
Want to read about snacks?
Fab Snack Finds For Keeping It Fun
Mix Up These Healthier Corn Muffins In A Jiffy
Five Restaurant Tips For People Who Love Food
What You Need To Know About 50% Less Sugar And Calories In Juices