What Happens When You Remove Fat And Sugar From Ice Cream
Does anyone else think the image of a skinny cow is a little strange? My kids thought the packaging was hilarious.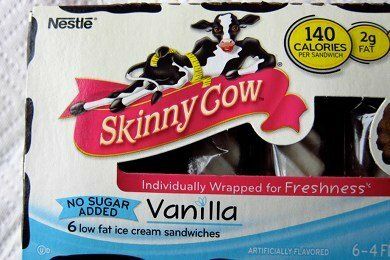 What is up with that cow? I guess she is living the "skinny dream" that the rest of us will live if we eat Skinny Cow products. In case you didn't know, the Skinny Cow Brand makes low fat and sugar free ice cream.
I was first introduced to Skinny Cow when I joined Weight Watchers in 2005 to lose the baby weight. These sandwiches solved a really big problem that I had with ice cream. My favorite ice cream was Ben & Jerrys and now I could satisfy my craving (and not eat 1/2 pint of Cherry Garcia) with a Skinny Cow ice cream sandwich.
These sandwiches are great because they are portion controlled, low in calorie, and taste a lot like ice cream. Here are the nutritional facts:
One sandwich is 140 calories, 2.0 g fat, 29 g carbohydrates, 4.0 g protein, 4.0 g fiber, 120 mg sodium, 4 Points+
The dark side of Skinny Cow is that when you remove fat and sugar from ice cream you have to replace it with SOMETHING.
Check out the ingredients list: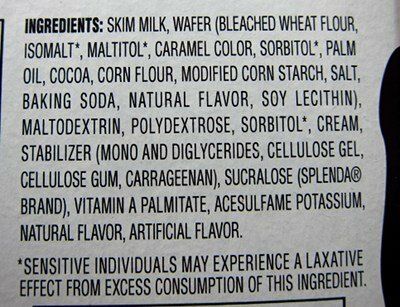 Don't you love that line about a "laxative effect"? Makes you wonder what other kinds of effects this sandwich will have.
What you get of course is a chemical cocktail that AMAZINGLY mimics the flavor, texture, and sweetness of ice cream. And, while I usually would say AVOID such a product with its sorbitol and sucralose - if you have a problem with ice cream and need to lose some weight - these can be handy.
I stopped eating them at one point because I got my ice cream habit under control. Somehow, eating less ice cream led to wanting less ice cream. Now I find that I can eat a small portion of delicious ice cream and forget the rest of the pint is in the freezer.
(yes, there are 2 pints in my freezer right now and I'm not thinking about them :)
In my travels, I have found two alternatives to Skinny Cow that taste better, have fewer calories, and much cleaner ingredient lists.
Both So Delicious Coconut Minis and Haagen Dazs portioned sorbets and frozen yogurts are delicious and there is no sucralose or sorbital to be found. Read my posts on them below.
Do you eat Skinny Cow ice cream sandwiches?
---
Other posts you might like:
---

Yes, folks, it is FRIDAY and time to give away some ice cream to a lucky reader. Where I am located it is HOT and STICKY. I usually advocate for homemade popsicles but today is different...
---

Snack Girl tends to avoid the frozen foods aisle. Why? Well, when she sees the 2 for $5 Ben & Jerry's she gets weak in the knees....
---