Drink Like A Lady? The Skinnygirl Margarita
Despite what you may think, Snack Girl doesn't spend a lot of time hanging out in liquor stores.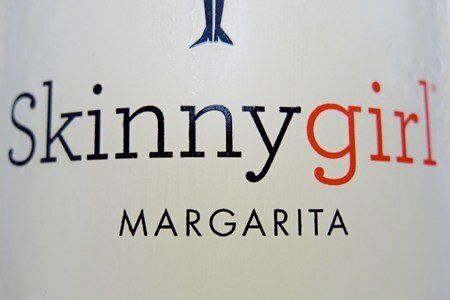 Burrrppp :)
One of my readers recently sent me to my local alcoholic beverage establishment with a request.
From Jackie:
Do you think you could do one on drinks for the 4th of July? I have seen the Skinny Girl ads & think hmmm, but would I be better off with a Mike's hard Cranberry Light.
Looking to join the fun, but keep with the smaller waist line.
Yep, sounds reasonable to me. But, I didn't know what she was talking about until I asked the young man who sells kegs to college students about Skinnygirl. I was feeling quite sheepish when I asked. "Do you sell something called Skinny Girl?"
He replied, "We sell A LOT of Skinnygirl here. We can't keep it on the shelves."
Where have I been? I plunked down my $14 (ouch) and purchased the best seller of the lot the "Skinnygirl Margarita". And, I was ready to hate it.
You see, I have had a margarita experience involving turquoise water and white sand that will be one of the apexes of my short life. How can this bottled stuff even compare?
Skinnygirl drinks are the creation of Bethany Frankel who was made famous by her appearance on "The Real Housewives of New York" on Bravo. Ummmm, yeah, so now I have another reason to hate it because I have nothing in common with Bethany Frankel.
For example, I own a 1984 Honda Accord that I actually like to drive. She probably wouldn't ride in anything later than a 2011 BMW. I, sometimes, go camping. She thinks a Best Western is camping. I could continue but I bet the Bethany Frankel fans are going to start flaming me.
So, I tasted the margarita, and I pronounce it very drinkable. In a shocking moment, I said to my husband, "I would actually drink this." What? Well, it isn't sweet. It has a good balance between lime and tequila and I don't have to mix anything.
There are 37.5 calorie in 1.5 ounces of this drink. The alcohol in this drinks is 12.7% which is comparable to wine. Four ounces is a glass of wine - so for four ounces you are drinking 94 calories - which IS skinny for a margarita.
What she left out is all the sugar, so if you like your margarita really sweet you are not going to like this concoction.
Now for the down side (other than the price) - there isn't an ingredient list included on the bottle or the website. The bottle says:

All natural, lightly sweetened with agave nectar, and made with premium Blue Agave clear tequila.
Which sounds good except that Whole Foods pulled it off their shelves because it includes "sodium benzoate" as a preservative. It doesn't meet Whole Foods' quality standard.
How did Bethany respond to Whole Foods' removal of her product?
"I'm not making wheatgrass here. If I could put an agave plant and some limes on a shelf I would. [The Skinnygirl Margarita] is as close to nature as possible, while still being a shelf stable product." TIME Magazine
Of course you would! We could all suck on agave plants instead of a tequila bottle.
My take is that these are a good for people who are trying to cut calories and love margaritas. I would add some fresh lime juice to make them really pop.
But, you can make something very similar by just pouring tequila over ice and adding fresh lime juice and a drop of agave nectar. It will taste better and save you some dough.
If you like your drinks super sweet, you are out of luck.
For the teenagers who read this site, Snack Girl advocates waiting until the legal drinking age to indulge in alcoholic beverages.
---
Other posts you might like:
---

Guess what I did yesterday? BUUUUURRRRRPPPP....
---

It is FINALLY beginning to heat up here in the middle of nowhere and Snack Girl loves cold drinks when it is hot outside.
---