The Skinny on Skinny Girl Wine
One of the common refrains of my buddies is "if I could just stop drinking red wine I would lose that last 10 pounds".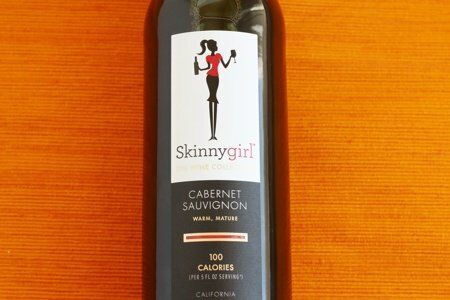 What if there was a wine that helped you lose the weight and you could still drink wine?!! Wouldn't that be amazing?
I caught a commercial for Skinny Girl red wine on some sports program I was watching – it may have been the Super Bowl – and I thought – this is a quest for Snack Girl.
After arriving at my local liquor store, I stood in the center not wanting to ask the young man at the front where the Skinny wine could be found. Think about it – "hey, I think I'm fat so could you get me some skinny wine?" – I couldn't ask.
I looked up and saw the regions of wine hanging from the ceiling – Spain – nooo – France – noooo – Australia – noooo – I SEE IT! California! – correct!
There it was next to the Ravenswood and other nice varietals for a whopping $15. Skinny has its price. The boast on the front is 100 calories for 5 ounces.
Before you get too excited, a regular five ounce glass of red wine (from a box or bottle) runs about 125 calories. If you do the math that means you could buy less expensive wine and drink four ounces to consume 100 calories.
How does Skinny Girl red wine reduce the calories? Their wine is 10% alcohol and a regular red wine is 13.5%. They reduced the alcohol – the only calorie component really in wine – and they got a lighter wine.
How did it taste? I was ready to hate it but I thought it was pretty good. I did a blind taste test on my husband (he did not know that it was Skinny Girl) and he liked it too. I asked him how much he would pay for it and he said $8.
My conclusions:
Skinny Girl wine is expensive.
You could reduce your calories to 100 per glass by drinking four ounces of any red wine instead of five.
Buying Skinny Girl red wine is embarrassing.
Have any of you tried Skinny Girl red wine? What did you think?
For the teenagers who read this site, Snack Girl advocates waiting until the legal drinking age to indulge in alcoholic beverages.
---
Other posts you might like:
---

Guess what I did yesterday? BUUUUURRRRRPPPP....
---

Despite what you may think, Snack Girl doesn't spend a lot of time hanging out in liquor stores....
---