Slow Cooker Lo Mein
There comes a time when you have to stop ordering take-out and start making your own slow cooker lo mein.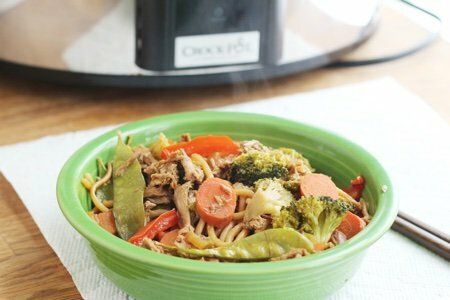 It is not hard and you can pack yours with a ton of vegetables. This recipe is not fried so it is much healthier for you than the lo mein you get at most Chinese restaurants.
Two of my other favorite healthier recipes are my Easy Hot and Sour Soup and my Chinese green beans.
I love this version because it makes a great lunch the next day (heats up in the microwave and still tastes good).
You can find oyster sauce and Sriracha sauce in the Asian section of your supermarket. They last forever so they are worth the investment.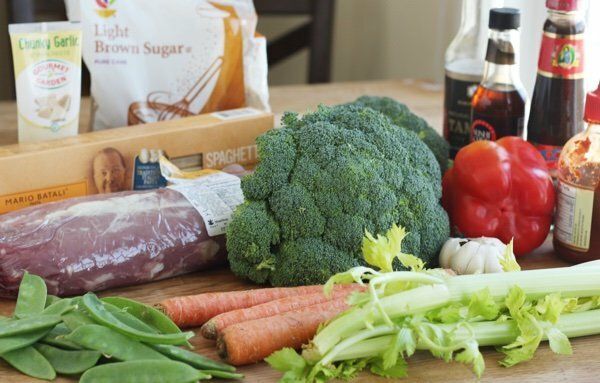 This recipe looks like it has a lot of ingredients (which it does)– but it happens in two distinct steps. It is like two recipes in one.
The first step is you slow cook the pork in the marinade for a while. This takes very little time to set up so you can do it before work and leave it all day.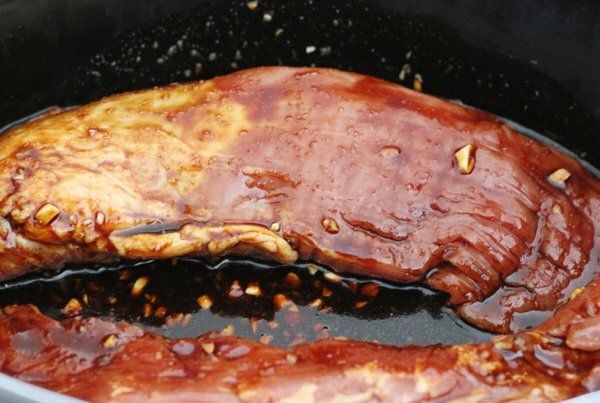 Then, when the pork has finished cooking – you cook the vegetables in the sauce for 15 minutes (and cook a pot of spaghetti).
I start my pork in the AM, and then when I am ready for the meal. I chop the veggies and cook the spaghetti.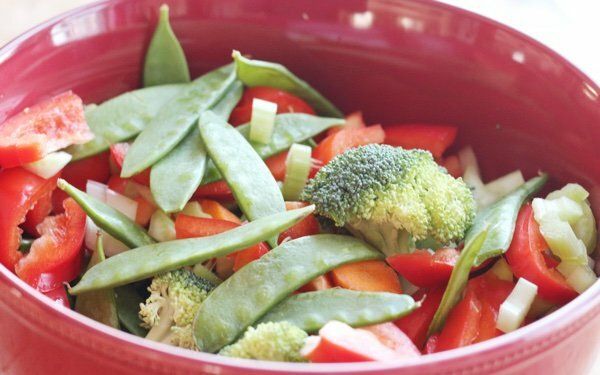 It really isn't hard. My version is much lower in fat than the version you will get from your local Chinese restaurant and I don't fry anything in oil. Also, I include as many vegetables as my children can stand in my version and I go light on the noodles.
It is pretty different than the lo mein that I get at my local spot so set expectations appropriately at home.
My son was not happy but my daughter ate a bunch of it ( I can NEVER get them on the same page).
Do you make lo mein at home? How do you do it?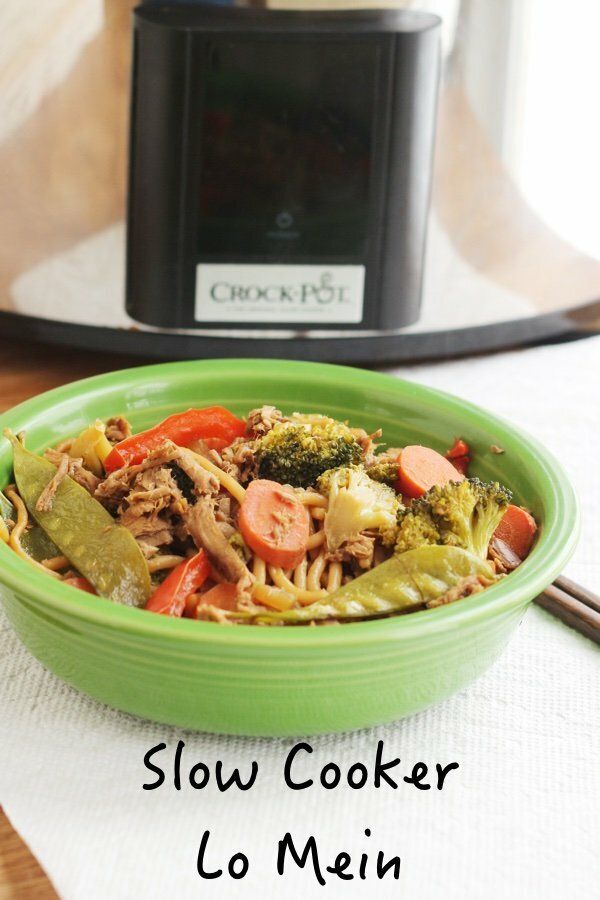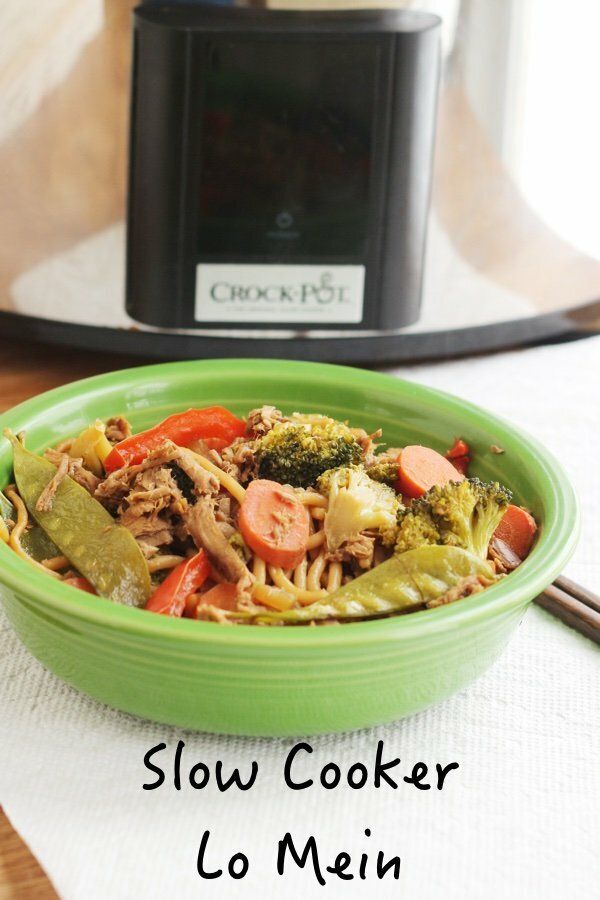 Slow Cooker Lo Mein Recipe

(no reviews yet)

Makes 8 servings

Ingredients
2 pounds pork tenderloin
3 cloves garlic, minced
1/3 cup soy sauce, reduced sodium
2 tablespoons brown sugar, packed
1 tablespoon oyster sauce
1 tablespoon freshly grated ginger
1 teaspoon sesame oil
1 teaspoon Sriracha chili sauce


3 cups broccoli florets
3 carrots, peeled and sliced
3 stalks celery, diced
1 cup snow peas
1 red bell pepper, chopped
12 ounces spaghetti

Instructions
Place pork tenderloin into a 6 quart slow cooker. Mix garlic, soy sauce, sugar, oyster sauce, ginger, sesame oil, and Sriracha in a small bowl and pour over pork. Turn it over a couple of times to coat. Cook on low for 7-8 hours or high for 3-4 hours.

When the pork is finished, remove it from the slow cooker. Turn the cooker to high and add the broccoli, carrots, celery, snow peas, and red pepper and cook until tender (about 15 minutes). While the vegetables are cooking, shred the pork with 2 forks and cook the spaghetti following packaged directions.

After the vegetables have finished add the pork and spaghetti and toss. Serve immediately.
Nutrition Facts
For one serving = 341 calories, 5.8 g fat, 1.6 g saturated fat, 34.0 g carbohydrates, 5.7 g sugar, 37.2 g protein, 2.4 g fiber, 700 mg sodium, 7 SmartPts

Points values are calculated by Snack Girl and are provided for information only. See all Snack Girl Recipes
---
Other posts you might like:
---

It is with a heavy heart that I criticize Chinese food here in the United States. Frankly, I used to live on this stuff until a doctor woke me up....
---

I can't stop eating soup and this easy hot and sour soup really hits the spot right now.....
---
---
Get Free Email Updates! Yes please!
---