How to Snack Well (Hint: Avoid SnackWell's)
Are SnackWell's the product of Satan? The cookie's name "Devil's Food cake" promises a treat of sinful proportions. AND, they are going to pull it off without fat, cholesterol or sodium.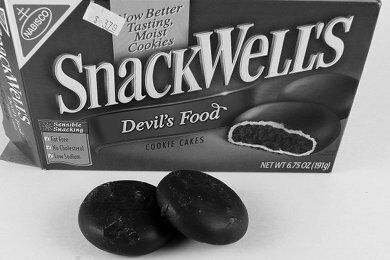 Satan didn't make these cookies, Nabisco did. I believe Satan would have done a better job.
The first ingredient listed on the box is sugar. If you are going to give up fat, you have to replace it with something. Later in the ingredients list is high fructose corn syrup (another form of sugar).
This is the worst cookie I have ever tasted. I have done MANY tastings for this website and I found these to be inedible.
It would be so great if there was a cookie that tasted like chocolate and only had 50 calories, but it just isn't possible. Cookies need to have butter, sugar, and chocolate to taste good.
Actually, if you eat real Oreos, you will eat about 55 calories for one cookie. Oreos taste much better, so if you are forced to choose go with Oreos.
Or, try the chocolate VitaTops. If you eat 1/2 it is only 50 calories and it tastes so much more delicious.
I want to like these just like I wanted to like 100 Calorie Packs. Food manufacturers who promise you a low calorie treat need to deliver on the TREAT part.
The snack needs to be delicious if I going to spend the calories. Remember No Bake Brownie Balls are 77 calories! And, trust me, they taste SO much better than a SnackWell's cookie, AND they are healthy.
The calories you consume on a daily basis need to be nutritious. It is not good enough to just cut calories and eat substitutes for high calorie foods. You need to eat foods that satisfy your taste buds and your organs.
What do you think of SnackWell's? Please share below.
Want to read about more snacks?
Comfort Food without the Uncomfortable Guilt
A Grecian Snack for All Time
Save Money, Calories, and the Environment with this Yogurt