Starbucks Bistro Box: A Grab and Go Under 500 Calorie Lunch
Do you go to Starbucks in the AM to grab that cup of joe? Many people do including one of my best pals, Samantha.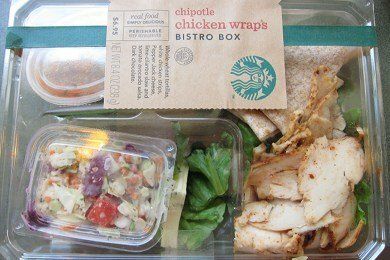 She drives to work and (of course) on her route is a Starbucks where she grabs her coffee, her breakfast, and her lunch. I'm not kidding! She is a single parent of 2 boys, an executive, does not cook, and is super healthy. You should see this woman in a bikini.
Of course, she doesn't do this EVERY day but when she is stretched for time - Starbucks is one of her solutions to her time crunch dilemmas. Why Starbucks?
Check out these Bistro Boxes that they have just come out with: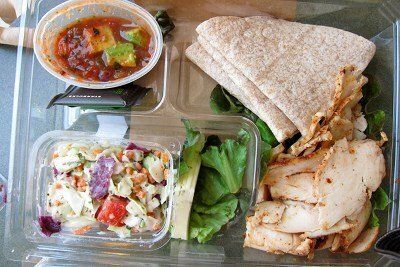 Does that look yummy? I tried this one at my local Starbucks - it is called a "Chipotle Chicken Wrap" and I was pleasantly surprised that it tasted pretty good. I paid $9 for my Tall coffee and Bistro Box ($6.95) - ouch! - but I would do it again.
It featured grilled chicken breast, whole wheat tortillas, coleslaw, chipotle salsa, and a small square of dark chocolate.
You sit down and make your own little wraps (this is not a lunch that you can eat while driving your car) and then eat your lovely chocolate feeling virtuous.
Why virtuous? Because you managed to stay away from the chocolate chip cookies that were staring at you from the glass case.
Here are the nutritional facts:
380 calories, 15 g fat, 35 g carbohydrates, 26 g protein, 6 g fiber, 970 mg sodium, 10 Points+
Remember, JUST the Big Mac from McDonald's is 540 calories - forget adding the fries and soda.
If Starbucks had used more lime, chile, or cilantro instead of SALT to make these taste great they would have a home run in my book. Yes, I bet you smarty pantses noticed the 970 mg of sodium (40% of your daily value).
My suggestion is to use these as a healthy lunch solution when you are pressed for time and make your own lunch when you can.
They have chicken lettuce wraps, sesame noodles, and salumi with cheese bistro boxes for sale and they are a much better choice than many of the other fast food outlets.
---
Want to read about snacks?
Starbucks' Oatmeal vs. McDonald's Oatmeal - Which one should you choose?
A Surprise Finding, Starbucks Serves Breakfast Sandwiches
Makeover The Best Selling Salad Dressing In America
A Refreshingly Sweet Zero Calorie Beverage With No Artificial Sweetener