Rethinking The Egg McMuffin
The McDonald's Egg McMuffin is on Snack Girl's radar. After reviewing, McDonald's Oatmeal she got a bunch of questions on the iconic McMuffin.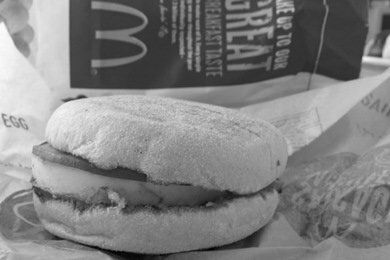 So, once again, I trekked out to McDonald's for breakfast and purchased 2 Egg McMuffins for $3.
Ummm, look, before I go any further, I know many of you eat this for breakfast. My own mother, when she was an executive, used to pick up an Egg McMuffin on her way to work. Now she is retired and (hopefully) making her own breakfast.
This is a typical "grab and go" meal and it is cheap and fast. But, it just tastes terrible. I know I am going to get flamed for this, but I found this breakfast sandwich completely inedible (and I will eat just about anything).
There was a chemical taste that I found bitter and the CHEESE wasn't real cheese. It is processed cheese and it was the consistency of glue.
You know what really shocks me? It is 820 mg of sodium in one sandwich. That s 34% of your daily value of sodium. But, I didn't buy ONE did I? So, I would have eaten 1640 mg of sodium - 68% of my daily value at breakfast.
Here are the nutritional facts for one Egg McMuffin:
300 calories, 12 g fat, 30 g carbohydrates, 18 g protein, 2 g fiber, 820 mg sodium, 8 PointPlus
But, you are probably going to eat two of them.
I wonder how McDonald's can mess up this simple sandwich.
The ingredients should be simple. The Egg McMuffin is basically a breakfast sandwich including an English muffin, fried egg, cheese, and ham (AKA Canadian style bacon).
If you eat these regularly, I want you to try something. Buy some whole grain English muffins, cheddar cheese, thinly sliced deli ham, eggs, and olive oil.
Toast your English muffin, fry your egg in a little olive oil, and add the cheese and the ham. Taste it. Now, you know what an Egg McMuffin SHOULD taste like.
Sometimes, I think we would not eat fast food if we had a good look at the ingredients before we purchase it. Here is the list from McDonald's website of the McMuffin's ingredients:
English Muffin:
Enriched flour (bleached wheat flour, malted barley flour, niacin, reduced iron, thiamin mononitrate, riboflavin, folic acid), water, yeast, high fructose corn syrup, sugar, wheat gluten, soybean oil and/or canola oil, contains 2% or less of the following: salt, calcium sulfate, calcium carbonate, citric acid, calcium citrate, yellow corn flour, corn meal, rice flour, barley malt, artificial flavors, natural flavors (botanical source), dough conditioners (ascorbic acid, azodicarbonamide, datem, tricalcium phosphate, monocalcium phosphate, enzymes, calcium peroxide), calcium propionate and potassium sorbate (preservatives), soy lecithin. Prepared with Liquid Margarine.
Egg:
USDA Grade A eggs, soy lecithin (release agent). Prepared with Liquid Margarine.
Pasteurized Process American Cheese:
Milk, water, milkfat, cheese culture, sodium citrate, salt, citric acid, sorbic acid (preservative), sodium phosphate, artificial color, lactic acid, acetic acid, enzymes, soy lecithin (added for slice separation).
Canadian Style Bacon:
Pork, water, sugar, salt, sodium lactate, sodium phosphate, natural flavor (vegetable), sodium diacetate and sodium nitrite (preservatives).
Liquid Margarine:
Liquid soybean oil, water, partially hydrogenated soybean oil, salt, hydrogenated cottonseed oil, soy lecithin, mono-and diglycerides, sodium benzoate and potassium sorbate (preservatives), artificial flavor, citric acid, vitamin A palmitate, beta carotene (color).
This list is over 50 ingredients long!
When I read a list like this, I just wonder if I want all these additives in my food. I realized the FDA has approved these chemicals, but I don't think they taste good and I think you can do better.
My suggestion is to try to limit the number of McMuffins you eat and try to motivate yourself to make breakfast. Here are four fast and healthy egg recipes here on Snack Girl:
What is your take on the Egg McMuffin?
Want to read about snacks?
Panini Extreme Makeover (Take THAT Quiznos!)
What To Do With Lots of Celery?
Healthy Homemade Bread in Five Minutes A Day
Love S'Mores? Try This 52 Calorie Treat