What Is This Ingredient Doing In My Stonyfield Yogurt?
Hey, she should not be wearing a cape. Only Snack Girl gets to wear a cape!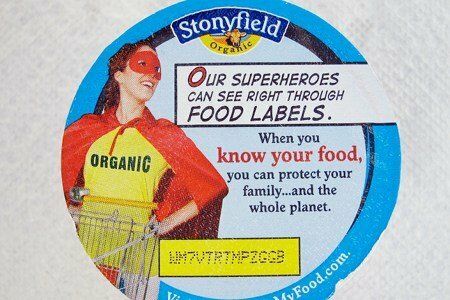 Stonyfield has stolen my idea. Oh well. I guess that lady can wear a cape (but mine is nicer).
The top of this organic Stonyfield indicates that you don't need to read their label because they are superheroes which save our families and the planet. Wow!
Now, I get to tell you that in 2003 Stonyfield Farm was acquired by Groupe Danone (Dannon Yogurt) the makers of this lovely stuff: This Yogurt Has More Grams of Sugar Per Ounce Than In Coca Cola.
Why would that matter? Well, I think that being purchased by another company can affect the quality of the products. The hippy, organic, earthy vision that is Stonyfield is a far cry from the multinational corporation with people in suits and tall glass buildings that own it.
Here is the label from that package: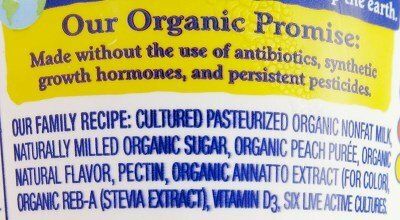 Ahem, this is your family recipe??? What kind of family is this? A robot family?
And the ingredient that I don't like is that "Stevia Extract". I just don't like the taste and I am surprised to find it in Stonyfield yogurt.
From Elena:
I've been eating Stonyfield's 0% fat french vanilla for many years. When I tasted the one I bought recently, I thought it had gone bad! Then I realized it was the new ingredient...stevia. I don't care if it's still organic...it tastes awful!
I spent forever in the yogurt aisle yesterday looking for a new alternative and found Siggi's. So far so good...
I asked a few of my friends if they knew that Stonyfield was adding stevia to their yogurt and they said, "What's stevia?"
I think I wouldn't write this post if Stonyfield didn't have a "holier than thou" image of purity. Yes, their stevia is organic - but many parents still wouldn't want to give this sweetener to their children.
Why did Stonyfield add stevia? Probably to get the amount of calories down to 100 per serving. If they just stuck with sugar, it might not be sweet enough at 100 calories for their customers.
My family recipe is to buy plain yogurt and mix in any fruit or sweetener that you prefer. This way, YOU control the amount of added sugar and you don't have to wear a cape.
For more information on Stevia - here is my post: Is Stevia/Truvia/PureVia A Safe Sweetener?
---
Other posts you might like:
---

Have you heard the warning about sugar hiding in your food? People are usually surprised when they find high fructose corn syrup in bread and ketchup....
---

If you don't think this little bottle in front of you is cute - you need your eyes checked. The concept - add a some flavor to your water is a good one....
---