Never Eat Fast Food French Fries Again
Yes, you can do it! You can give up your beloved french fries and celebrate their exit from your life.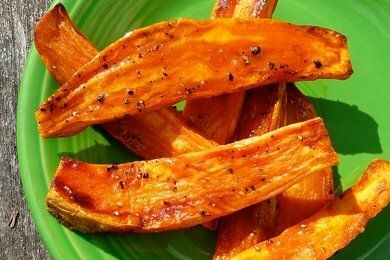 Seriously.
Before you start arguing with me about how you simply will never leave them - have you met "homemade sweet potato fries"? Get out of that BAD relationship and move into a healthier and more loving space, and you will NEVER go back. I promise.
Baked sweet potato fries have the crunchy outside, and the soft inside and they pack a nutritional wallop with 219% of your daily allowance of Vitamin A in one serving. And that is just ONE of the benefits of eating them.
Half a potato is going to set you back 111 calories (with the olive oil), but that is nothing compared to buying and eating fast food fries (560 calories for a large fries). You could eat the entire recipe below and still have calories to spare!
What I really like about making my own fries is that I can customize the flavor. Some great additions to sweet potatoes are:
brown sugar
cajun spice
cinnamon
cayenne pepper
minced garlic
taco seasoning
Grab your favorite flavors and just toss them in. They become so flavorful and seriously addictive (like those other french fries - but you have forgotten them and moved on because these are SO much better).
After you make these, just pop them in your fridge. Eat them as a snack or add them to your salad. Mush them in your yogurt or eat them for breakfast After they are refrigerated, they aren't as crunchy but they still taste really good.
What do you put in your sweet potato fries?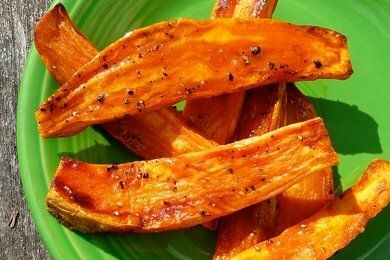 Sweet Potato Fries Recipe

(serves 4)
aluminum foil for pan
2 medium sweet potatoes
2 tablespoons olive oil
salt and pepper to taste

Preheat oven to 450 F. Half the sweet potatoes lengthwise. Place on flat slide and slice 5-6 spears (thick and long strips) of sweet potato. Place them on the aluminum foil and toss with olive oil and your favorite flavorings.
Spread them in one layer. It is important that they have space around them and aren't piled up on each other. Bake for 15 minutes and turn with tongs or a spatula. Bake for another 5 to 10 minutes, until lightly browned. Add optional salt and pepper. Serve hot, room temperature, or cold.
For one serving: 111 calories, 6.8 g fat, 11.8 g carbohydrates, 1.1 g protein, 1.9 g fiber, 21 mg sodium, 4 Points+
Points values are calculated by Snack Girl and are provided for information only. See all Snack Girl Recipes
Other posts you might like:
---

Even if you aren't a football fan, you will probably know when the Super Bowl is being played. The parties are a fun way to celebrate SOMETHING while the weather is cold....
---

Z French like to sspeak like thissss. In France, they call French fries - frites. Don't they know they are French fries? sheesh....
---
---
Get Free Email Updates! Yes please!
---