The Skinny on Bagel Thins
Thomas' has managed to put two words together that spend most of their time apart - "bagel" and "thin". Nobody is getting thin eating bagels, trust me.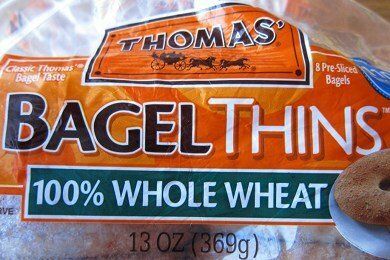 Thomas' Bagel Thins are not the regular 300 calorie behemoth found at your local bagel store. This bagel is much thinner and the one I purchased is 100% whole wheat and 110 calories.
What? That's right - a 110 calorie bagel. The first thing I do when I evaluate packaged bread is look for artificial sweeteners or stevia. I have been amazed to find Truvia, stevia, sucralose, etc. to be lurking in bread. Honestly, I don't want this stuff in my bread so I was happy to find Thomas' Bagel Thins advertising:
No Artificial Sweeteners
No High Fructose Corn Syrup
Five grams of Fiber
Here is the ingredient list, and as you can see, Thomas' uses plain old fashioned "sugar" to make these a little sweet:
whole wheat flour, water, sugar, wheat gluten, flaked wheat cellulose fiber, cornmeal, yeast, wheat bran, salt, preservatives (calcium propionate, sorbic acid), monoglycerides, guar gum, sodium stearoyl lactylate, datem, soybean oil, soy flour.
Nutritional facts:
For one bagel = 110 calories, 1 g fat, 24 g carbohydrates, 6 g protein, 5 g fiber, 190 mg sodium, 3 Points+
These bagel things are 100% whole grain because Thomas' managed to use only whole wheat flour. Then, to get them up to 5 grams of fiber they added "flaked wheat cellulose fiber" which I guess is all right.
Because it is packaged bread and needs to remain fresh on the shelf, there are preservatives and monoglycerides which are milk derivatives.
Do I like these? Well, I think that these are one of the best options out there for those of us trying to decrease our monster bagel consumption.
They taste pretty good, and reminds one of an actual bagel. Having TWO slices of bread that equals 110 calories is a real bonus because one piece of bread is usually around 100 calories.
My five year old son liked these and thought they were REAL bagels (he is easy to fool). If my husband didn't make our bread, (see Healthy Homemade Bread in Five Minutes A Day) I would buy these.
Have you tried Thomas' Bagel Thins? What do you eat them with? Have you found a better healthy bread option?
---
Other posts you might like:
---

Snack Girl lives in the North Eastern United States or as it is called " the bagel corridor". Yes, there is a fresh bagel chain here called Bruegger's and it is pretty good.
---

Let's face it - homemade bread rocks.....
---