How to Eat More Vegetables
There can be no doubt that eating vegetables is good for you. Scientific study after study proclaim their health benefits. Want to reduce your risk of cancer? Eat vegetables. Want to live longer? Eat vegetables. Want to avoid weight gain? Eat vegetables.....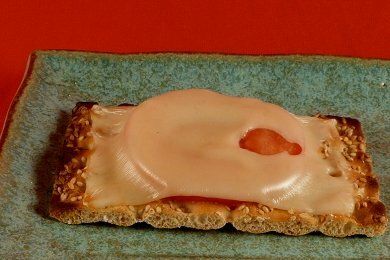 The sad thing is that the American diet does not lead us to eat vegetables. Our favorite vegetable is the potato. And how do we eat them? You guessed it! as French Fries. Our breakfast menus consist of eggs, toast, and potatoes.
Our lunch menus, hamburgers (with lettuce and tomato if we are lucky), and French Fries. And, dinner? Well, here we can hope for vegetables - but still they can be hard to find.
Fortunately, we have a chance to change our lack of veggie habit with our snacks. The key is making our vegetables taste good.
This may mean admitting to yourself that raw or steamed veggies with nothing on them just turns you off. That is okay! Just find ways to make them taste good and then seamlessly incorporate them into your diet.
This snack is one that my Dad eats for breakfast. I think it is great because he eats tomato - a fantastic fruit (not a veggie - but close enough) - for breakfast!
---
Wasa-Jarlsberg Breakfast Snack
1 Wasa Cracker
1 Slice Jarlsberg Cheese
1 Slice Tomato
Heat broiler or toaster oven. Slice tomato and sprinkle a little salt to taste. Place cheese on tomato and run under broiler until grilled (about 1 minute).
---
Wasa Crackers are usually whole grain and yummy (about 60 calories). They can be found in the cracker section of any supermarket.
Jarlsberg is a tasty and naturally lowfat cheese (40 calories for a slice). And tomato - well it is just good for you. Having a tomato around the house will force you to add it to salads or sandwiches just to use it up - and you will be healthier for it.
How do you include more vegetables in your diet?
Want to read about snacks?
Share Your Snacking Challenge
How to Get What You Pay For
Fun for kids to make and eat (adults too!)
Which Favorite Snack has 35 Ingredients?