Six Easy and Delicious Watermelon Recipes
Snack Girl recently attended a last day of school party and she brought slices of watermelon.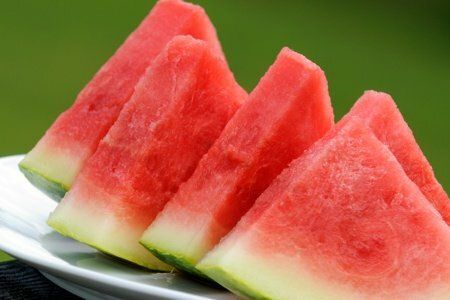 The watermelon I sliced up was LARGE but I didn't get a piece. While I was schmoozing with the other parents, a small hoard of children devoured it!
Sheesh.
When I was a kid, I avoided watermelon because it had the consistency of Styrofoam, tasted sour, and had seeds that I had to spit out. If this is what you think of as watermelon, well let me inform you that watermelon has changed.
The watermelon I bought was from Florida and it was sweet, had the right amount of crunch, and almost no seeds (at least that is what I heard since I didn't get any). Yum!
Watermelon is only 40 calories per cup (take THAT ice cream) and has 9 grams of sugar. It has 18% of your daily value of vitamin A and 21% of your daily value of vitamin C. Don't miss it because it is inexpensive and delicious this time of year.
What is your favorite watermelon recipe?
---
Other posts you might like:
---

Aaaah, the beach…..Hopefully, you have a beach near you that helps you cool off....
---

Let's all do a swan dive right into ice cream season! Weeee!....
---