Got Watermelon? Try This Awesome and Simple Recipe
This is the season of watermelon. Supermarkets position these lovely creatures right at the front door so they hop into your cart! Really!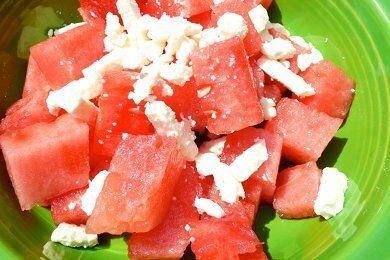 Then, you get them home and have to figure out what to DO with all of it. The first thing I do is cut some up and put it in some plastic containers. This way, it is ready for munching and grabbing for a snack on the go.
A watermelon lover, Mary Ann, e-mailed me a question about watermelon. From Mary Ann:
Is watermelon a fatty food? I am trying to lose weight and so I am watching what I eat. Now that it is summertime I am eating a lot of watermelon. I often replace dinner with watermelon. I absolutely LOVE it. Will it hinder my diet though?
Wow, a dinner of watermelon! That is love right there. I doubt it would hinder a diet, but I would wonder if you would get hungry later after eating it.
Watermelon has almost NO fat, but it has sugar. A 1 cup serving of watermelon has 9 grams of sugar, but, it also has 18% of your daily value of vitamin A and 21% of your daily value of vitamin C.
I have already written on Watermelon and it is ONLY 40 calories for 1 cup of watermelon. Try that with cookies!
But, if you add feta cheese you are adding some protein and fat to your watermelon. Which is a good thing if you are eating it for dinner! This way you can stay away from the inevitable Ben & Jerry's that screams to you in summer.
This is ridiculously simple to make. If I was packing it to take to work, I would leave the feta separated from the watermelon until you are ready to eat. The watermelon gets soggy when the feta is added so it is better to mix and eat!
The saltiness of the feta complements the sweetness of the watermelon. Dill is a great addition here - I didn't add it to mine because my husband hates dill (what is wrong with him?). Hey, we all make compromises.
Try it and tell me how it goes!
---
Watermelon Feta Salad Recipe

(serves 2)
2 cups watermelon diced
1/4 cup crumbled feta cheese
1 tablespoon chopped dill (optional)

Mix feta, watermelon, and dill in a small bowl. Eat immediately or else the watermelon become soggy.
For one serving: 95 calories, 4.2 g fat, 12.2 g carbohydrates, 3.6 g protein, 0.6 g fiber, 211 mg sodium, 1 Points+
What do you do with watermelon?
Want to read about snacks?
An Amazing Apple Pie Makeover In Two Minutes
How To Prevent Cancer
Giveaway! 6 Weeks To A Healthier You from The Biggest Loser!
The Odwalla Smoothie Dilemma