Do Something Different With Watermelon
Sometimes it is hard to buy one of those LARGE watermelons. Are you really going to eat all of that?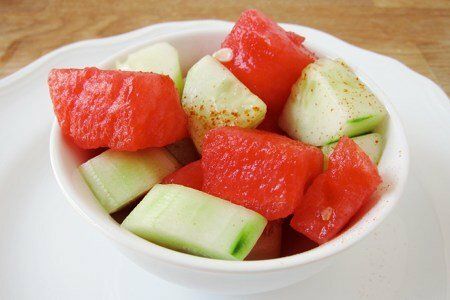 One way to deal with too much watermelon is to use your blender and make watermelon juice. Just chop it small enough for the blender to handle it. I like to mix in some vodka lightly sweetened lemonade.
Or, you can take a slice of watermelon, squeeze on some lime, dip it in a bit of kosher salt, and sprinkle on some chili powder. The combination of sweet, salty, sour, and spicy is a taste explosion – and while risky, the risk is definitely worth it.
I learned about this taste combination from a Mexican chef. He told me that in certain regions of Mexico, they sell pineapple on a stick prepared in this way.
Doesn't that sound refreshing?
In the below recipe, I have used the same combo with cucumber to make a crunchy side dish to your BBQ. This salad is best served right away and as cold as possible.
I put the cayenne down as "optional" because it takes bravery to add this spice to your food if you aren't used to it. I did sneeze quite a bit after adding it but it gives this recipe a KICK.
Which brings me to the story of my first visit to a vegetarian restaurant, The Moosewood Restaurant in Ithaca, NY. I couldn't wait to go there because I had a few of their cookbooks.
Boy, was I disappointed! The food was so bland that I still hold a grudge. There is no reason for healthy food to be bland, boring food. Go ahead and eat your steamed veggies with brown rice with a wee bit of soy sauce – but I'm grabbin' the Tabasco.
Have you tried a savory watermelon recipe?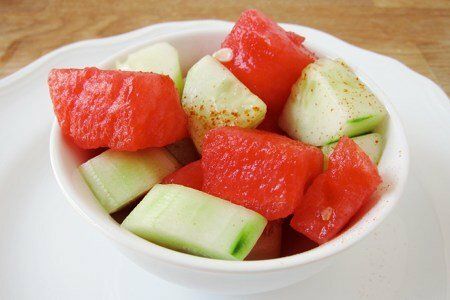 Watermelon Cucumber Lime Salad

(4 servings)

Ingredients
3 cups watermelon, chopped into 1 inch cubes
1 cucumber, peeled
1 lime
1/2 teaspoon coarse salt (for example, Kosher salt)
1/8 teaspoon cayenne pepper (optional)

Instructions
Chop cucumber in one inch cubes and mix in large bowl with watermelon. Squeeze lime over mixture and add salt and cayenne. Toss and serve immediately.
This salad doesn't store well because the watermelon tends to get soggy after you add salt.
Nutrition Facts
For one serving: 46 calories, 0.3 g fat, 11.4 g carbohydrates, 8.3 g sugar, 1.2 g protein, 0.9 g fiber, 243 mg sodium, 1 Points+
Points values are calculated by Snack Girl and are provided for information only. See all Snack Girl Recipes
Other posts you might like:
---

I don't know about you, but I am hot! The heat wave here in Massachusetts made me feel like the Wicked Witch of The West....
---

Snack Girl has been obsessed with watermelon. My fridge seems always to have half a watermelon staring out at me....
---
---
Get Free Email Updates! Yes please!
---