Vegetarian Hash For Breakfast: You Don't Need Bacon
If I am absolutely honest with myself, bacon will be one of the top foods I take to a deserted island.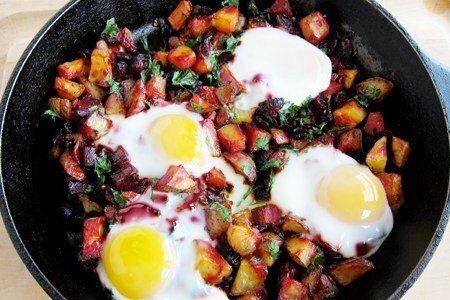 Crispy, crunchy, salty....yum! Alas, bacon is a high calorie choice and has those pesky nitrates people are trying to avoid. I am always looking for a bacon like experience without the bacon AKA "bacony".
Up there is a photo of my latest breakfast riff. My daughter walked by it and exclaimed, "bacon!!", and I told her to give it a try.
She tasted and decided that it was delicious (and could she have more). I did not tell her she was eating beets, potatoes, and parsley in a crispy crunchy salty, sweet, flavorful bacony combo called "vegetarian hash".
The red color gives the idea of bacon. If you are confused at this point in the post, I understand. This tastes nothing like a pork product, but it is a great way to serve eggs. You can also skip the eggs and just eat this plain.
In addition to protein and fiber, this recipe will give you 13% of your daily value of iron, 54% of your daily value of vitamin C, and 18% of you daily value of vitamin A.
Beware this does take 50 minutes in the oven. so you cannot grab and go. You can make this ahead and heat it up for a quick consumption. I made this for lunch when I was stuck at home cleaning.
This is best cooked in a cast iron skillet (see below). I love them because you can move from oven to stovetop seamlessly and they are inexpensive. They are also fun to wave at someone when angry. If you don't have one, use another large frypan that can be heated in the oven (no plastic handle).
Have you made a vegetarian hash? Please share.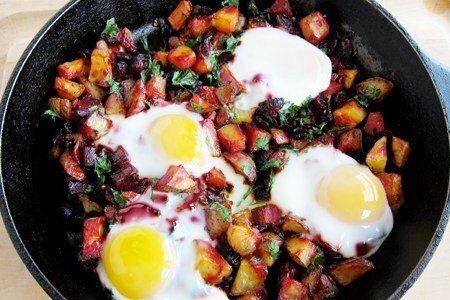 Vegetarian Hash
(makes 4 servings)
Ingredients
2 tablespoons vegetable oil
3 medium potatoes, medium dice
2 medium beets, peeled and cut into medium dice
1 small onion, medium dice
2 garlic cloves, minced
salt and pepper
½ cup finely chopped fresh parsley
4 eggs (optional)
Instructions
Heat the oven to 450 F. Combine potatoes, beets, onions, and garlic and large bowl and season with copious amounts of salt and pepper. Toss to coat.
Pour oil into cast iron skillet and heat for five minutes. Remove from oven and spread potato mixture in an even layer. Roast in the oven for 25 minutes.
Remove from oven and stir. Return to oven and roast until the potatoes are fully browned and crispy, about 25 minutes more.
Remove from oven and mix in chopped parsley. This is ready to serve if you are not using eggs. For the egg eaters, crack four eggs over the top of the potatoes and return the skillet to the oven. Bake for 5-10 more minutes or until desired doneness. Enjoy!
Nutrition Facts
With eggs: 236 calories, 12.1 g fat, 2.9 g saturated fat, 24.1 g carbohydrates, 7.4 g sugar, 9.5 g protein, 4.1 g fiber, 130 mg sodium, 6 Points+
Without eggs: 165 calories, 7.1 g fat, 1.4 g saturated fat, 23.7 g carbohydrates, 7.0 g sugar, 3.2 g protein, 4.1 g fiber, 60 mg sodium, 4 Points+
Points values are calculated by Snack Girl and are provided for information only. See all Snack Girl Recipes
---
$43.50 $24.90 Buy on Amazon.com
As an Amazon Associate, I earn from qualifying purchases.
---
Other posts you might like:
---

Snack Girl knows how you are feeling right now. Too many bowl games?....
---

Snack Girl has been hard at work determining how many cookies she will be making this weekend. I started dreaming with five different cookie recipes....
---
---
Get Free Email Updates! Yes please!
---