Warm Dark Chocolate Melting Cups for Valentine's Day
These warm chocolate melting cups are for love and and to help children with cancer.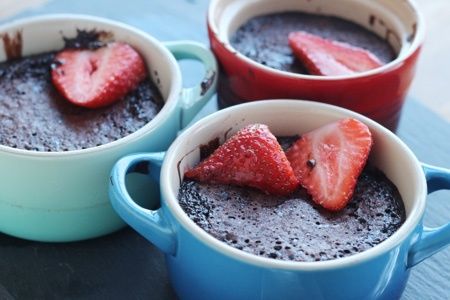 A group of food bloggers have gotten together to create awareness about childhood cancer and raise some money. We are all posting Valentine's Day recipes and sharing a fundraising link in the hopes to help out.
Did you know that cancer is the #1 cause of death of children by disease in the U.S.? There are 40,000 U.S. children actively battling cancer right now. With less than 4% of the National Cancer Institute's budget going to all childhood cancer combined, I knew it was important for me to get involved.
Help us make a difference by donating to Cookies for Kids' Cancer! Our goal is to raise at least $3000.
My recipe is a little lighter than most as it has mostly chocolate and eggs (and no butter).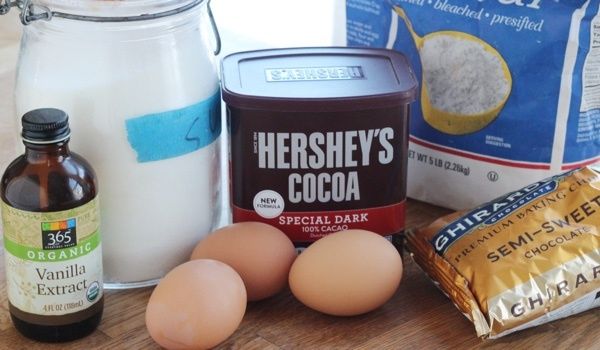 It is actually a really easy recipe that creates a lovely almost fluffy result. You combine melted chocolate and whipped eggs to get a pudding/cake like confection in a little warm cup. How can you resist?
Here is the melting chocolate in a pan - which is the first step.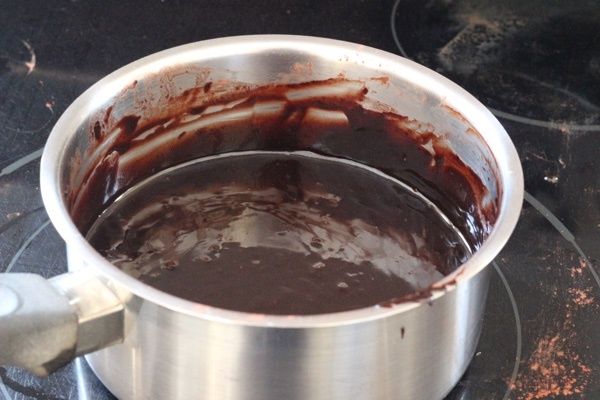 Then, you mix the melted chocolate with beaten eggs which makes the chocolate light and fluffy. It is quite amazing what eggs can do with chocolate. You put the mixture into ramekins. Mine are a little big in this photo. If you have the four ounce size then they are perfect.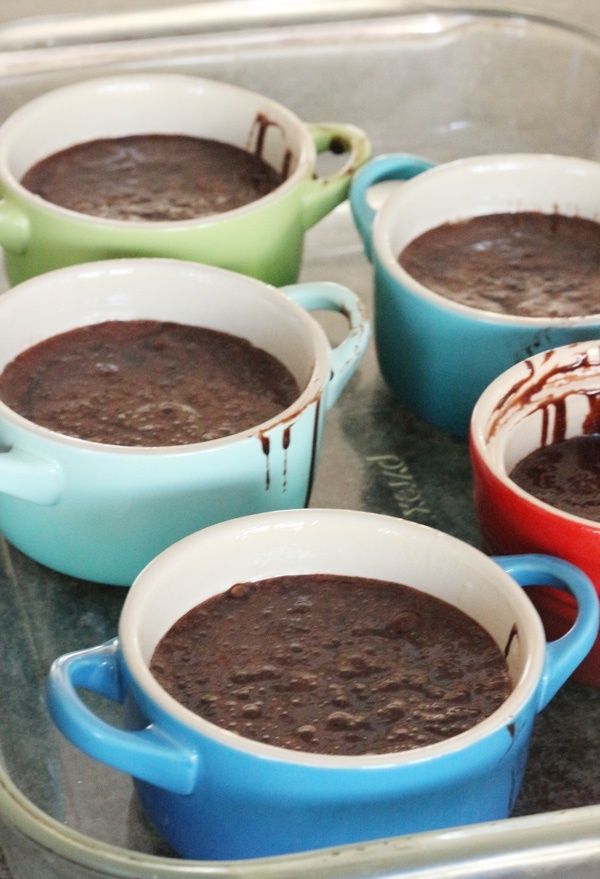 You bake them for about 20-25 minutes until they are set in the center. Take them out of the oven and wait until they cool down for about five minutes or you will burn your mouth! These are delicious warm.
What is your favorite Valentine's Day dessert? Please share.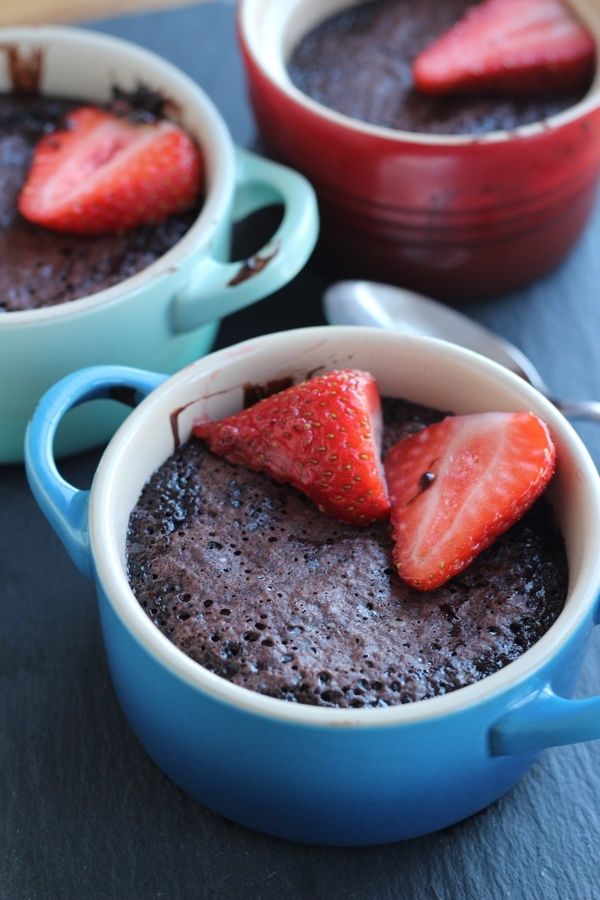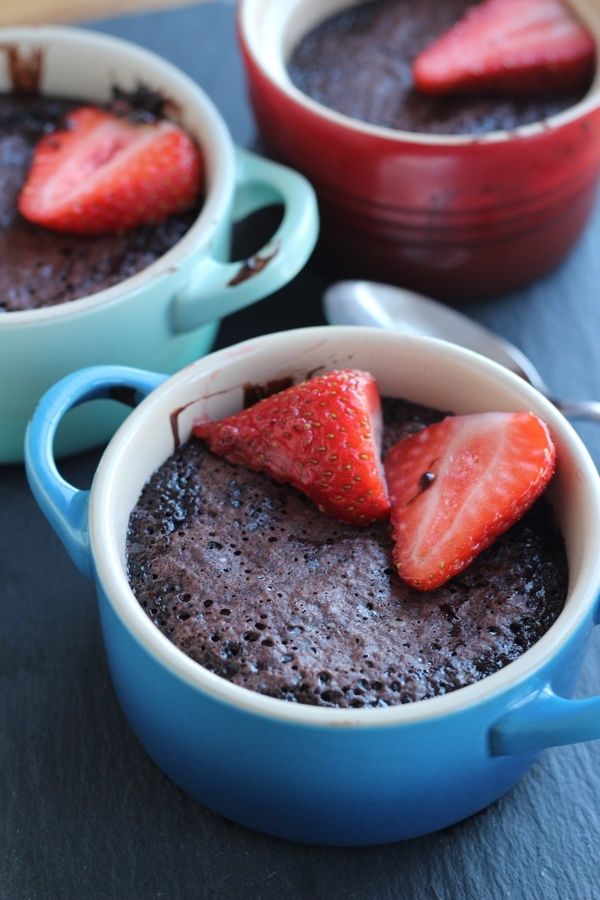 Warm Dark Chocolate Melting Cups
Serves 10 (4 ounce servings)
Ingredients
1 cup sugar, divided
1/2 cup dark cocoa
2 tablespoons all-purpose flour
pinch of salt
3/4 cup water
3/4 cup semisweet chocolate chips
1 tablespoon brewed coffee
1 teaspoon vanilla extract
2 large eggs
1 large egg white
Instructions
Heat oven to 350 F. Spray 10 - 4 ounce ramekins with baking spray. In a small saucepan, mix 1/2 cup sugar, cocoa, flour, and salt. Add 3/4 cup water and stir until sugar is dissolved. Bring the pan slowly up to a boil, stirring often. Mixture will thicken. At a boil, remove the saucepan from the heat and mix in chocolate chips, coffee, and vanilla.
With a mixer, beat eggs and egg white until slightly thickened. Add remaining 1/2 cup sugar and beat until it mixture is thick and yellow (like a lemon). Fold in chocolate mixture. Divide batter into 10 - 4 ounce ramekins and place ramekins in a baking dish. Add about 1 inch of boiling water to the pan. Bake for 20-25 minutes until the centers are set. Wait for them to cool about 5-10 minutes and serve.
Nutrition Facts
One serving is 194 calories, 6.2 g fat, 3.6 g saturated fat, 34.5 g carbohydrates, 28.6 g sugar, 2.6 g protein, 2.5 g fiber, 33 mg sodium, 10 Freestyle Pts
Points values are calculated by Snack Girl and are provided for information only. See all Snack Girl Recipes
Check out these other wonderful Valentine's Day recipes from other food bloggers in support of ending Childhood Cancer:
Other posts you might like:
---

These low sugar chocolate desserts are really good. It shouldn't be hard to imagine how chocolate can taste with just a wee bit of sugar....
---
---
Get Free Email Updates! Yes please!
---