Fast, Delicious, Healthy - What Else Could You Want?
Snack Girl's daily snack conundrum comes down to convenience. What can I grab to shove in my face when I'm hungry?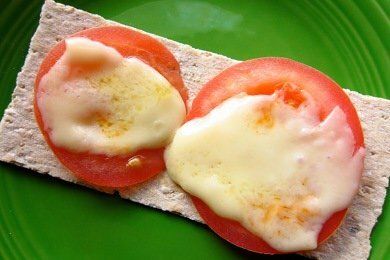 Most of the snacks featured on this site will take you less than 30 seconds to prepare. I know it is EASY to grab some sort of packaged energy bar - but is it satisfying?
How about the snack featured here? I just sliced a fresh tomato and placed 1/2 ounce of Jarlsberg cheddar cheese on it. I grabbed a Wasa flatbread (35 calories) and put it all in the microwave for about 10 seconds.
Doesn't it look yummy?
If I have more than 30 seconds to make my snack, I might add a little bit of mustard to the tomato. My snack features a fruit, a little cheese for protein and fat to keep me satisfied, and a healthy cracker.
Wasa crackers are from Norway and can be found on the bottom shelf of the cracker section in your supermarket. Some of their crackers are 100% whole grain, which makes them very crunchy compared to a Ritz cracker (see my article here: 3 Reasons to Avoid Ritz Crackers). They are low in calorie (40 calories each) and don't contain a lot of added fat or sugar.
I featured a Wasa cracker in my Flaming Frito video, and it didn't burn! I think it is because it isn't as processed as the Fritos and it certainly has less oil.
My snack is about 90 calories and will hold me until dinner time. You could serve a variation on this for a great party snack.
I just love the combination of tomatoes and cheese!
What do you put on your crackers?
This product was received for review consideration. No other compensation was provided.
Want to read about snacks?
Change Your Perspective To Change Your Diet
Want To Prevent Breast Cancer? Try This Awesome Snack
A Pumpkin Spice Latte With 77 Calories
A "No Peel" Apple Recipe To Make You Swoon