A Pumpkin Spice Latte With 77 Calories
Do you have any buddies who anxiously await the arrival of the Starbucks' Pumpkin Spice Latte? It has been here for a month and people love it.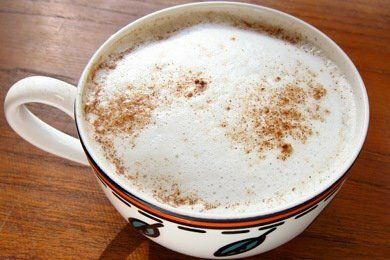 A Venti (20 ounces) will set you back 510 Calories! (whole milk and whipped cream included)
ummm, ouch. There is 60% of your daily value of saturated fat in this single drink.
But, I am sure Snack Girl readers aren't ordering the whipped cream and the whole milk. And you guys are probably going with the TALL size (still 200 calories). You can have all kind of fun on Starbucks' website playing with what you add to their drinks (Starbucks Pumpkin Spice Latte).
Frankly, I don't like the Pumpkin Spice Latte because I find it too sweet. I do adore pumpkin spice so I thought I would attempt my own version. It turns out that ANYONE can make their own pumpkin spice latte.
Why would you want to make your own? You will save:
Calories - mine is 130 calories less than Starbucks' lite version
Money - saved about $2.50
The Environment - no paper cup and lid to toss away
You don't need an espresso maker with a milk frother to make this drink. You can buy a milk frother that runs on batteries called an Aerolatte (see below). I have one (first saw it in Europe) and it works great!
Buy some pumpkin spice from the baking section of your supermarket, skim milk, sugar, and you are ready to go. Try adding just one teaspoon of sugar and see if you like it. You don't need a lot of sugar to make this taste delicious.
How do you deal with the Starbucks Pumpkin Spice Latte?
---
Pumpkin Spice Latte Recipe
4 ounces coffee or espresso
1/2 cup skim or nonfat milk
2 teaspoons sugar
1/4 teaspoon pumpkin pie spice (plus extra to dust on top)

Brew coffee and heat milk until hot in microwave. Foam milk with Aerolatte or other milk frother. Mix sugar and pumpkin pie spice in coffee and pour milk on top. Enjoy!
77 calories, 0.2g fat, 14.8 g carbohydrates, 4.3 g protein
---
$29.99 $19.99 Buy on Amazon.com
As an Amazon Associate, I earn from qualifying purchases.
---
Want to read about snacks?
The Snack Girl Reveal
Want To Prevent Breast Cancer? Try This Awesome Snack
Cut Your Morning Sugar Consumption in Half With This Cereal
A "No Peel" Apple Recipe To Make You Swoon