Chill Out With Some Watermelon Tomato Soup
You see that leaf of basil up there? I wish that was ME! Why? Because it is 100F, and that soup is COLD.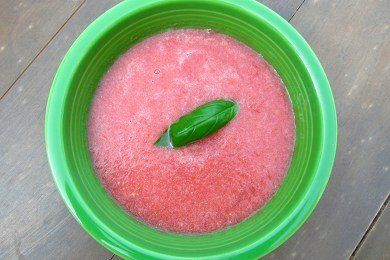 While you would never make a cold soup in January, grab the moment and serve this refreshing watermelon and tomato soup.
I was inspired to try this from a New York Times article that referenced "The New Spanish Table" by Anya von Bremzen (see below). This book is a wonderful collection of recipes from Spain and with a little adjustment (removing 1/4 cup olive oil) - I made this recipe into a super healthy soup.
All you do is puree tomatoes, watermelon, lemon juice, and celery in a blender and chill. No cooking required!
My 7 year old daughter pointed out that you could now drink this like a smoothie and proceeded to pour herself some. She is getting too big!
Her father, my husband, pointed out that a shot of vodka might make this drink really pop! he he :)
My in-laws, who are visiting right now, said that they liked the soup without salt or pepper. And, me? I loved the basil, salt, pepper, and I drizzled about a teaspoon of olive oil to give the soup a bit more depth of flavor.
The olive oil is not included in the nutrition facts below - but it is 120 calories per tablespoon so if you start pouring it all over the place - the calories increase dramatically. Some would argue that the taste also increases in deliciousness dramatically.
This is a great addition to any summer barbecue because it can be made ahead and your guests will love you for helping them chill.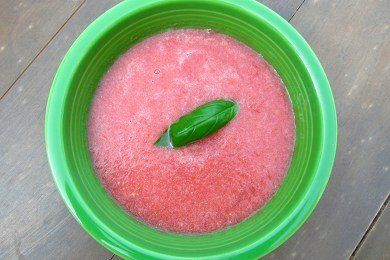 Watermelon and Tomato Soup Recipe

adapted from "The New Spanish Table" by Anya von Bremzen
(serves 4)
Ingredients
4 cups cubed seedless watermelon
1 pound ripe tomatoes
1/2 lemon
1/2 cup diced celery
salt and black pepper (to taste)
fresh basil (optional)

Instructions
Chop and seed tomatoes. Place as much as can fit of tomatoes, watermelon, and celery into a blender and squeeze lemon over mixture. Blend until as smooth as you can get it- it is a good idea to only fill your blender 1/2 full and hold onto the top. This will probably take a 2 or 3 batches. Pour into bowl and chill for 4 hours or overnight.
Ladle into soup bowls and serve with salt and pepper on the side. Add slivers of fresh basil if you have them. Enjoy!
This soup will keep for three days in your refrigerator.
Nutrition Facts
68 calories, 0.5 g fat, 16.4 g carbohydrates, 2.0 g protein, 2.2 g fiber, 19 mg sodium, 0 Points+
Points values are calculated by Snack Girl and are provided for information only. See all Snack Girl Recipes
$22.96 Buy on Amazon.com
As an Amazon Associate, I earn from qualifying purchases.
---
Want to read about snacks?
A Refreshingly Sweet Zero Calorie Beverage With No Artificial Sweetener
Why Watermelon Makes Us Feel Good
Makeover The Best Selling Salad Dressing In America
Top Ten High Protein Snacks
---
Get Free Email Updates! Yes please!
---