Wendy's Value Menu: Healthy Options
Most people don't eat the $7 salads at Wendy's. They eat off the Wendy's value menu.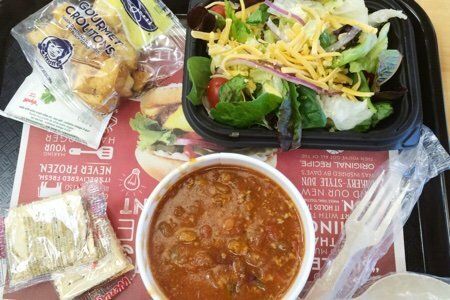 You might be wondering (since this is a healthy eating website) why I am even talking about Wendy's or McDonald's. My thinking is that many of us do not want to admit how much we eat at fast food joints.
I am not judgmental about where people eat and I never want to label food as "bad". Food is food. Are there better choices than fast food? Sure. But, if you are stuck in the middle of nowhere or you love the drive-thru – there are options for you.
First, the bad news. This is the McDonald's Every Day Value Menu: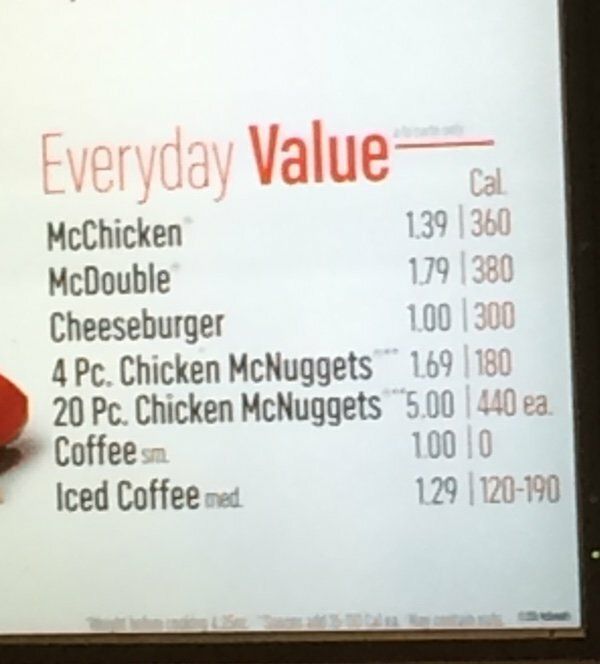 As you can see, there is nothing that can be called "healthy". When I went to McDonalds for an Egg Mcmuffin (without the bacon and cheese) and a coffee for a snack, everyone in the line was ordering from this menu.
Stick with the Egg McMuffin (whole grain muffin and an egg) at $3.35 – it is your best bet.
Wendy's on the other hand has two things on its value menu that are pretty great: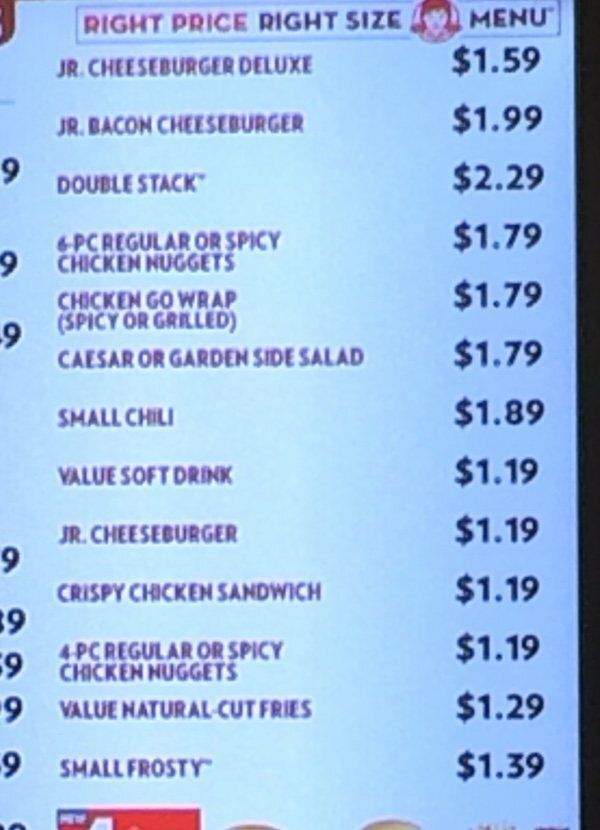 The garden side salad and the chili are both fine options and are great when you put them together. I hate cheese on my salad so I put it on my chili. I didn't need the dressing on the salad because it tasted good to me without it and I skipped the croutons and crackers.
The salad without the croutons and dressing is a whopping 25 calories and includes:
Iceberg Lettuce, Romaine Lettuce, Spring Mix (baby Lettuces [red & green Romaine, red & green oak, red & green leaf, lolla Rosa, tango], spinach, mizuna arugula, tatsoi, red chard, green chard), Grape Tomatoes, Cucumbers, Red Peppers.
Yes, people, arugula!
With the croutons and dressing = 220 calories (you decide).
The small chili is:
170 calories, 5 g fat, 2 g saturated fat, 16 g carbohydrates, 6 g sugar, 15 g protein, 4.0 g fiber, 780 mg sodium, 5 SmartPts
FYI - the cheddar cheese adds another 70 calories.
Where this goes off the rails is the SODIUM. Why on earth would you need so much salt in chili?
At any rate, this is a far better choice than the others and you spend a total of $3.60 for a soup and a salad. It is a bit shocking how inexpensive this is and I don't want to get into a debate about wages, etc.
You can do this every once and a while and not pack your lunch (or break the bank). Whatever you do - don't order the fries or the Frosty. They are bad. (just kidding :)
Do you eat off the value menu? What do you eat?
---
Other posts you might like:
---

It is very easy to find the worst snacks to eat in the grocery store....
---

Do I want to find a place that serves reasonable priced healthy food on the go? Yes!...
---