Are Whole Grain Goldfish Healthier Than Regular Goldfish?
Have you checked out your local cracker aisle? At last count, there were ELEVEN different bags of Goldfish!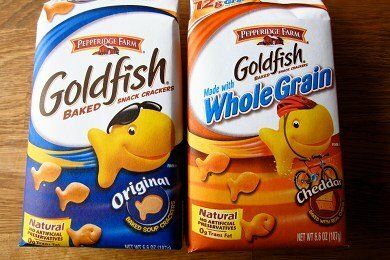 Wow! That is crazy, no? baby, cheddar, colors, pretzel,......
A very sweet high school student and reader of Snack Girl sent me a question on these funny crackers. From Chelsea:
so me and a lot of my friends love Goldfish...the snack that smiles back even pleases high school seniors :) So I was wondering if you would do a review on them. Especially the whole grain ones, are they truly healthier? Thanks, Snack Girl!
What? Whole grain? Even baked and shaped snack crackers are becoming whole grain. The world is changing. So, I thought this was a good question and went out and purchased these crackers (and my kids love them).
If you blindfolded me and fed me these two different species of Goldfish - I would not be able to tell you that they were different. To me, they tasted exactly the same. And, I found out that they are "soup crackers" - isn't that cute? Fish to swim in your soup!
Here is the label for the "regular" Goldfish. There is 150 calories for 55 Goldfish (4 Points+).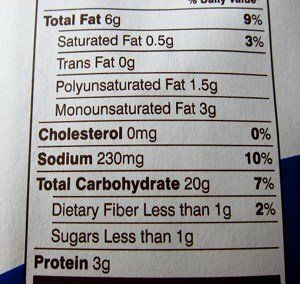 Here is the label for the Whole Grain Goldfish. There is 140 calories for 55 Goldfish (4 Points+).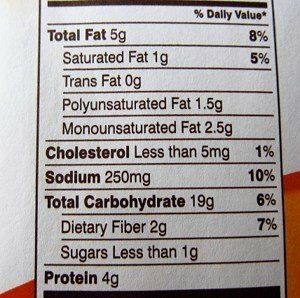 The most important thing to remember about "Whole Grain" marketing is that just because it says it is whole grain - it does NOT mean that it is 100% whole grain. So, the Whole Grain Goldfish has both WHOLE wheat flour and regular wheat flour.
When I did my own cracker making experiments (see: DIY Whole Wheat Crackers), I found that using 100% whole wheat flour created crackers that had the consistency and taste of cardboard. Yuck.
I do not believe Pepperidge Farm is trying to trick you. I just think crackers are hard to make 100% whole grain because there is no yeast (like in bread) to lighten them up.
My analysis is that the "Whole Grain" is a bit better - it has fewer calories, more fiber, more protein and more iron per serving. They are both high in sodium so you want to stick to your one ounce portion or meticulously count out 55 fish (just kidding).
The ingredients are what you would expect in a packaged cracker (no big surprises) and they are quite a bit better for you than potato chips because they are not soaked in oil.
I think these would be a great replacement for Doritos, too - those bad boys have 35 ingredients, MSG, and artificial colors.
Still, I would add a piece of fresh fruit to my after school Goldfish snack. I'm not sure these would do the job all on their own.
What do you think of the Whole Grain Goldfish?
---
Other posts you might like:
---

Whole wheat Ritz crackers have the potential to be healthy…if they actually existed.....
---

Since this site is called "Snack Girl", I get a bunch of questions about crackers. Frankly, I am pretty lost in the cracker aisle myself...
---