The Best Brand Of Crackers (Your Own)
Since this site is called "Snack Girl", I get a bunch of questions about crackers. Frankly, I am pretty lost in the cracker aisle myself.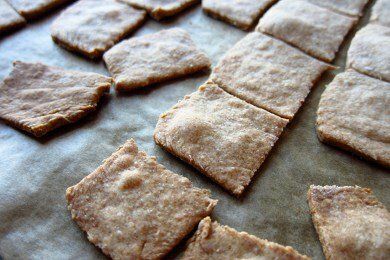 What if you never entered the cracker aisle in the supermarket again? Put on your apron, rev up your oven, and try to MAKE crackers.
Right about now, you are wondering why you should make them when there are so many brands you can buy. Well, you will:
Save money - they are CHEAP to make and expensive to buy
Save the environment - no box or plastic bag to toss out
Impress your friends and family with your culinary skills
The amazing thing is that they are super easy to make, especially if you own a food processor. I have been pushing food processors for a while because I think they are SO helpful in cutting time from cooking. Mine is a Cuisinart and has been working for 7 plus years - and the bowl fits in my dishwasher.
I made these crackers and they were gone as soon as they were cool enough to eat. This is a basic recipe that needs no embellishment unless you like flavored crackers.
Like black pepper? Add some cracked black peppercorns. Like salt? Add some Kosher salt to the top right before baking. Like cheese? Grate some parmesan over your ready to go into the oven product or mix some in the dough.
Treat this recipe like a CANVAS for your favorite flavors. Look, ma, I'm creatin'!
These crackers are better than any store bought brand because they taste REALLY good and you made them. Take THAT Nabisco.
Do you make crackers? Please share your tips.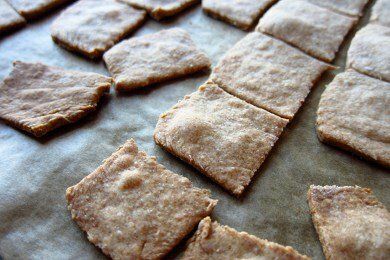 Whole Wheat Cracker Recipe
Makes 24 servings
Prep time: 10 min
Cook time: 15 min

Ingredients
1/4 cup all-purpose flour
3/4 cup whole wheat flour
1/2 teaspoon salt
2 tablespoons butter
2 tablespoons olive oil
1/4 cup water
Instructions
Preheat oven to 400 F. Line a baking sheet with parchment paper or dust with all-purpose flour. Put all the ingredients except the water into a food processor and pulse until combined. If you don't own a food processor, mix the ingredients by hand in a bowl until little balls form.
Add the water and keep running the machine (or mixing in a bowl) until the mixture forms a ball (add a teaspoon of water at a time until you have a dough ball). Dust your counter with flour and roll out the dough until it is 1/4 inch thick. Transfer to the baking sheet, add any additional spices, and cut into 24 pieces. A pizza cutter is a very helpful tool for cutting the dough.
Bake until lightly browned, about 15 minutes. Store in a container at room temperature for a few days (if they last that long).
Nutrition Facts
For one cracker = 37 calories, 2.1 g fat, 4.0 g carbohydrates, 0.5 g protein, 0 g fiber, 57 mg sodium, 1 Points+
Points values are calculated by Snack Girl and are provided for information only. See all Snack Girl Recipes
currently unavailable Buy on Amazon.com
As an Amazon Associate, I earn from qualifying purchases.
---
Other posts you might like:
---

I'm locking my doors tonight in case the people from Nabsico try to take their revenge. Why, Snack-Girl, do you need to mess with an American icon?...
---

The search for a great cracker has ended with an entry from Texas. Organic and artisan-baked, these crackers are better than anything I have tried in a LONG time....
---
---
Get Free Email Updates! Yes please!
---