Avoid The Cereal Aisle Forever Using This Simple Recipe
Snack Girl writes a lot about cereal because it is one of those packaged foods that makes all sorts of health claims.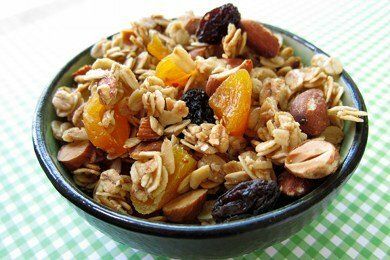 For example, I believe a package of Cocoa Krispies had a "boost your immune system" statement on the front of the box. I will not even list all the things that are wrong about such a claim.
It pains me to even walk down the cereal aisle because my children start demanding expensive cardboard boxes filled with "god knows what" with Sponge Bob on the front. Honestly, I don't have the time to stand there and determine what to buy.
So, I buy a couple of cereals with no added sugar - Cheerios, Rice Krispies, Wheat Puffs, and I make my own cereal.
You heard me! I make my own cereal (and, no, I am not related to Martha Stewart).
Raise your hand if you make your own cereal! Hmmm, not so many of you. Why is that? Is it because you can just buy it and you know that you don't have time to make it?
Cereal is ridiculously easy to make and the TASTE. You will never go back to a box of packaged cereal. I mean it.
Whole grains are important for a healthy diet. They are SO important, in fact, that you should not trust Kellogg's to make them for you.
The recipe below is a modification of an earlier DIY-cereal post on Snack Girl. I decided to change it to reduce the calories and increase the whole grains.
You can also reduce the amount of sugar per serving by not including the dried fruit. It tasted great without it - it is just a matter of personal preference.
Here is the nutritional information for a breakfast sized serving (1/2 cup) WITHOUT dried fruit:
246 calories, 13.6 g fat, 28 g carbohydrates, 5.3 g protein, 3.7 g fiber, 4 mg sodium, 7 Points+
You don't have to use almonds if you don't like nuts. Also you can use your favorite nuts - hazelnuts, pecans, walnuts, to make this cereal.
The route to FOREVER with this recipe is to make it with different ingredients so you don't get bored with it.
Find some time to make your own cereal and then tell me what you think. Puleeease!
Do you make your own cereal? What do you put in it?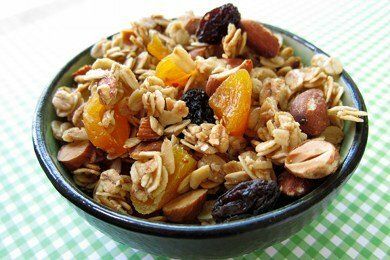 Improved Homemade Cereal Recipe
(makes 5 cups)
Non-stick spray for pan
aluminum foil for pan
3 cups rolled oats (not instant)
1 cup chopped almonds
1/3 cup canola oil
1/3 cup honey or maple syrup
1 cup raisins or any dried fruit you prefer
Preheat oven to 325 F. Line a large rimmed baking tray with parchment paper. Combine the oats, and nuts in a large bowl. Mix the canola oil and honey and pour onto oat mixture. Spread on baking sheet and bake for 30 minutes.
After it cools, scoop cereal off the pan and put in a bowl. Add the dried fruit and enjoy! Store in a air tight container in the refrigerator until you finish it.
For snack sized serving = 1/4 cup = 145 calories, 6.8 g fat, 19.7 g carbohydrates, 2.9 g protein, 2.1 g fiber, 2 mg sodium, 4 Points+
For breakfast serving = 1/2 cup = 290 calories, 13.6 g fat, 39.4 g carbohydrates, 5.8 g protein, 4.2 g fiber, 4 mg sodium, 8 Points+
Points values are calculated by Snack Girl and are provided for information only. See all Snack Girl Recipes
Want to read about snacks?
French Onion Dip With Zero Guilt
How Important Is It To Buy Organic?
Eat Less Meat And Dairy With These Vegan Snacks
Wow Your Friends This Memorial Day With Salad Sticks
---
Get Free Email Updates! Yes please!
---