Make Your Own Whole Wheat Tortillas - So Yummy!
See that tortilla up there? I made it! And, yes, I am proud of myself.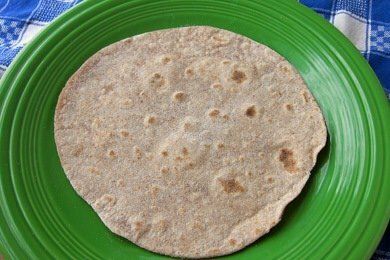 Perhaps one of you could send me a gold star sticker?
Why would I make my own tortillas instead of just buying one of the numerous packages in the supermarket?
Here is the ingredient list for La Tortilla Factory High Fiber, Low Carb Tortillas:
water, oat fiber, whole wheat flour, soy flour, vital wheat gluten, expeller pressed canola oil, contains less than 2% of each of the following, baking powder, sea salt, yeast, xanthan gum, guar gum, citric acid, I-cysteine, to maintain freshness (sorbic acid, calcium propionate).
I guess I think that tortillas that have added stuff to keep them fresh aren't as good as homemade ones.
The truth is that I don't really like packaged tortillas. They taste a bit like the plastic bag that they come in (sad).
The recipe below is REALLY simple if you have a food processor. The entire tortilla dough making process was under 5 minutes. If you don't have a food processor, you could mix this in a bowl with your hands, but it will take you longer.
Sadly, you must wait an hour for the dough to rest to allow the flour to soak up the ingredients before you cook them.
One hour later, you can start heating your pan and cooking your tortillas - which is the best part! There was something so fun and satisfying about making tortillas.
After you roll out your dough to your desired thickness, you toss it in a pan and wait for a bubble to form. Then, you flip it and cook a little more. Finally, you have this absolutely divine product to consume.
My kids went absolutely nuts over these tortillas. They were a real treat!
You can make a whole bunch and then freeze them for later consumption. I promise - these are worth the effort.
The best way to cut calories with this recipe is to make them thinner and smaller. For example, if you make 20 tortillas instead of 10 (which is totally doable), you will have a 80 calorie (2 Points+) tortilla.
If you try to take out the oil from the recipe, you will end up with something that resembles a cracker.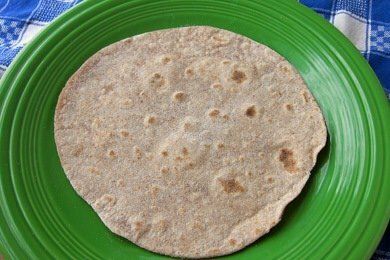 Whole Wheat Flour Tortilla Recipe
(makes 10 tortillas)
Ingredients
1/2 cup white bread flour or all-purpose flour
2 cups whole wheat flour
1 teaspoon salt
1/4 cup shortening, olive oil, or coconut oil
1 1/4 cups boiling water

Instructions
In a food processor pulse both flours and salt. Add shortening and pulse until blended. Slowly add boiling water though tube until a wet dough forms. The tortilla dough should be just a little bit sticky. Form 10 balls of dough and rest on cookie sheet under slightly damp towel or plastic wrap for at least 1 hour or up to 8 hours.
To cook tortillas, heat large frying pan on high heat. Roll out tortilla on floured surface until you reach your desired thickness. Place tortilla on griddle and cook until you see a bubble form. Flip tortilla and cook for about 30 seconds more. Roll out the next tortilla while the first one is cooking. Eat immediately, refrigerate, or freeze your tortillas.
Nutrition Facts
For one tortilla: 159 calories, 5.4 g fat, 23.8 g carbohydrates, 3.2 g protein, 0.9 g fiber, 234 mg sodium, 4 Points+
Points values are calculated by Snack Girl and are provided for information only. See all Snack Girl Recipes
$129.95 $99.99 Buy on Amazon.com
As an Amazon Associate, I earn from qualifying purchases.
---
Other posts you might like:
---

Since this site is called "Snack Girl", I get a bunch of questions about crackers. Frankly, I am pretty lost in the cracker aisle myself...
---

Are you trying to eat seasonal foods? Put down those hard tomatoes and grab some cabbage....
---
---
Get Free Email Updates! Yes please!
---