Spread It On or Dip It: The Best Yogurt Fruit Dip
Snack Girl has long advocated for an apple and peanut butter for a perfect snack. Basically, you got your fruit with a another whole food (peanuts) just blended up. Super yum!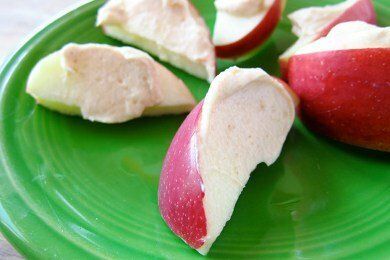 Sadly, this snack can get a bit dull. Even Snack Girl herself gets a bit sick of apples and peanut butter.
What would happen if you added yogurt to your peanut butter? Or more exactly, peanut butter to yogurt? Would the awesomeness just blow your mind?
I have got to tell you that I added a mere teaspoon of all natural peanut butter to 2 ounces of Vanilla Greek Non-fat yogurt and my mind was blown. Actually, it was the tablespoon of PB2 added to the yogurt that was other worldly.
PB2 is powdered peanut butter and has a fraction of the calories of regular peanut butter - see here: Peanut Butter Lovers: A 45 Calorie Solution That Will Save Your Waistline. You get the peanut butter flavor without the calories - and I actually liked it BETTER than the addition of regular old peanut butter.
I found a Dannon Oikos non-fat vanilla greek yogurt in the yogurt section. Chobani also has a vanilla option -but FAGE did not. That's okay because I can't afford FAGE anyway :)
You take about half of the yogurt out into a bowl, mix it with your choice of peanut butter, and spread it on your apple. My kids, of course, prefer to dip.
The vanilla and peanut butter combo is creamy, nutty, and just great with the CRUNCH of a fresh apple. Wow!
Another option for a yogurt fruit dip is to just add honey to plain greek yogurt. Taste it until you get the right sweetness and you will love how it tastes on apples, strawberries, pineapple, etc.
For those on Weight Watchers, if you can just divide this in 1/2 (2.5 Points+) - you will still have a satisfying snack.
How do you make yogurt fruit dip? Please share.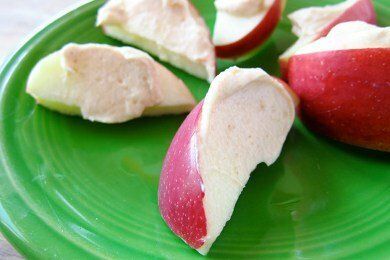 Yogurt Fruit Dip Recipe

(serves one)
2 ounces of vanilla greek nonfat yogurt
1 teaspoon peanut butter or 1 tablespoon PB2
1 apple

Mix yogurt with peanut butter and spread on apple or use as a dip. Enjoy!
With peanut butter and apple: 171 calories, 3.0 g fat, 33.4 g carbohydrates, 6.3 g protein, 4.7 g fiber, 43 mg sodium, 5 Points+
With PB2 and apple: 167 calories, 1.2 g fat, 34.0 carbohydrates, 7.8 g protein, 4.6 g fiber, 57 mg sodium, 4 Points+
Points values are calculated by Snack Girl and are provided for information only. See all Snack Girl Recipes
$7.21 ($1.11 / Ounce) Buy on Amazon.com
As an Amazon Associate, I earn from qualifying purchases.
---
Other posts you might like:
---

This healthy apple crisp recipe is THE dessert of fall. It only uses one apple!....
---

Bored with the same old apple and peanut butter? Love to eat cookie dough out of the bowl?....
---
---
Get Free Email Updates! Yes please!
---