Zucchini Burgers: A Late Summer Treat
These zucchini burgers were almost gone before I photographed them. These are the hazards of having teenagers home when you work in your own kitchen.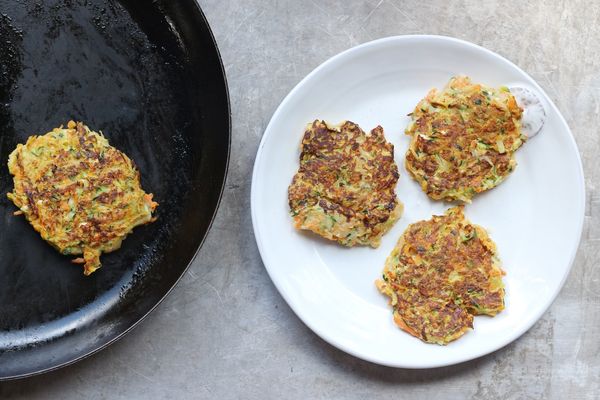 Typically, I make a recipe, shoot it, and then offer to anyone who might be walking by the kitchen. That person is usually my partner, Matt, who gives me a review and tells me if the recipe should be featured here on Snack Girl.
I value Matt's input but now that my son and daughter are home - it can be a fight to take the photo. They are hovering around waiting for someone to cook something so they can pounce on it.
They both can cook but they would rather have someone else cook for them. Tell me about it.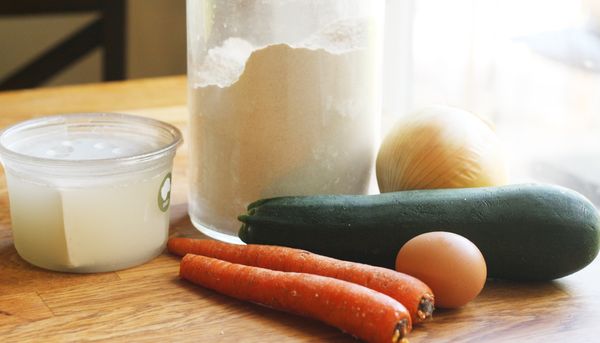 I grated the zucchini, carrot, and onion in my food processor and then mixed in the other ingredients. Forming the patties is easy (though be aware that liquid may ooze out as they wait to be cooked).
I used my hands a lot to keep the patties in one piece before I put them in the pan.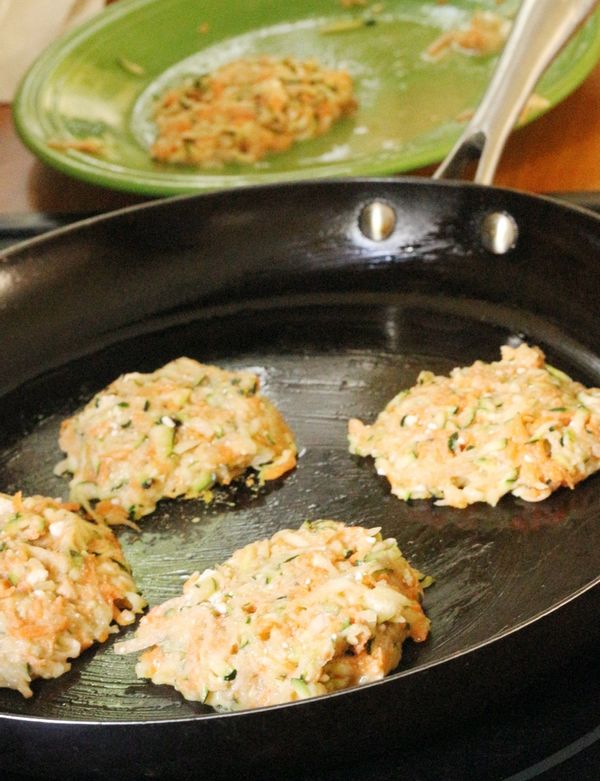 After I cooked these for about 4 minutes per side, my daughter walked into the kitchen and asked to eat them. Being a food blogger means that I have to photograph the food before it is eaten. I cannot photograph my daughter's full belly as a representation of a zucchini burger.
Once I was done, she ate ALL OF THEM! She loved the feta cheese addition. I do think that the salty feta makes a nice contrast between the sweet carrot and zucchini.
I find that if you call anything a "burger" like my mushroom lentil burger or my portobello burger - your kids will eat it.
My daughter thought these were not burgers but more like zucchini latkes - but she loves latkes.
Have you made zucchini burgers? What did you put in them? Please share."'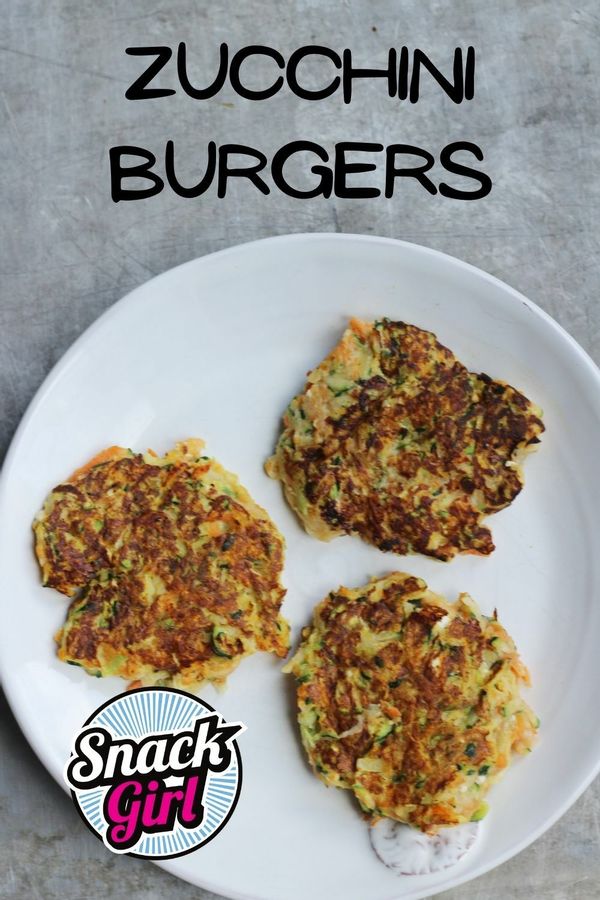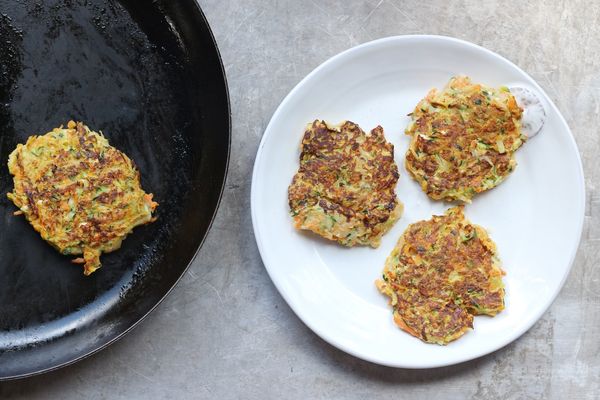 Zucchini Burgers Recipe
Makes 8 burgers
Prep time: 10 min
Cook time: 8-10 minutes

Ingredients
1 large zucchini
1/2 teaspoon salt
1 large carrot
1/2 yellow onion
1 large egg
1/4 cup whole wheat flour
1/4 cup crumbled feta

Instructions
Using a box grater or food processor grating attachment, grate the zucchini. Put it in a small bowl with 1/2 teaspoon of salt and leave for five minutes. After the time has ended, squeeze out the excess water using a cloth or paper towel and place zucchini in a large bowl. Grate the carrot and the onion in the food processor and add it to the bowl with the egg, flour, and feta. Mix until combined. Fill your palm with the mixture and create a patty. You should be able to create about 8 patties.
Heat a non-stick pan to medium heat and add non-stick spray. Cook on each side for four minutes and serve immediately.
Nutrition Facts
One burger = 48 calories, 1.7 g fat, 0.9 g saturated fat, 6.1 g carbohydrates, 1.7 g sugar, 2.5 g protein, 1.7 g fiber, 219 mg sodium, 1 Green, 1 Blue, 1 Purple WW SmartPts
Points values are calculated by Snack Girl and are provided for information only. See all Snack Girl Recipes
Other posts you might like:
---

Mushroom lentil burgers are a very healthy replacement for 8 ounce beef burgers....
---

I know what you are thinking - "Hello, lovely.....nom nom nom" Yes, that is a portobello mushroom burger that you will be making this summer....
---
---
Get Free Email Updates! Yes please!
---