Check Out This Cookie (Scary)
Snack Girl has a problem she wants to share.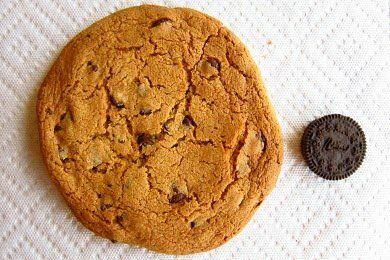 She loves cookies.
Not just sorta kinda loves them - LOVES them. So, when she goes to a local cafe she wants to buy one with her coffee for an afternoon treat.
As she looks into the glass case, she spots this MONSTER. huh? Where is my sweet little chocolate chip cookie?
My cookie has been replaced with a cookie that will set you back 600 calories. Look at it compared to the knock off Oreo next to it. How many of those do you think would fit on top of the massive cookie? 15 or 16?
My town has a bunch of cafes and I can tell you right now - this is normal. Finding a regular sized cookie (150 calories) is pretty much impossible.
I realize that this isn't news. "Super Size Me", a documentary by Morgan Spurlock, did a great job talking about how portion size is out of control.
On a daily basis, we are confronted with WAY too much food. And not just too much food, but unhealthy food.
Here is a photo of a refrigerated case of food at the airport: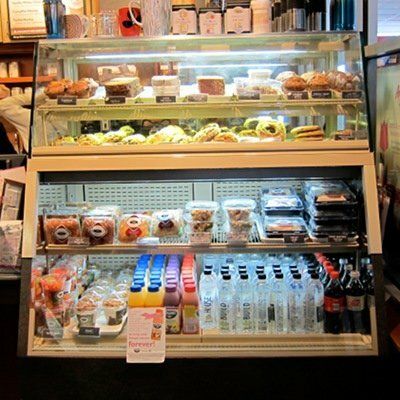 This is a nicely framed photo (if I do say so myself :), but imagine yourself walking up to it. What is the first food you are going to see?
Yeah, the muffins, cookies, banana bread, etc. I feel kinda sorry for the fruit salad shoved in the corner next to the yogurt with granola.
So, when you need to grab something for the plane that no longer serves food - the first thing you have to decide is, "NO! I don't want butter, sugar, flour, eggs, chocolate." and then you have to order the $4 fruit salad. ouch.
How many of you are capable of making the HEALTHY choice? I can tell you right now that I have to exercise SERIOUS restraint when I approach a counter like this.
If you are having trouble eating healthy snacks, keep in mind that life isn't set up for healthy snacking. You are constantly confronted by too many calories in food that has few nutrients.
Hang in there, healthy snackers!!
How do you deal with MONSTER cookies? Please share.
Want to read about snacks?
Pretzels Can Make You Dance (Giveaway)
Saving The Brussels Sprouts
A Pumpkin Spice Latte With 77 Calories
What You Need To Know About Hot Dogs