Make Winter Warmer With Apple and Peanut Butter Oatmeal
Are you bored with your oatmeal? Let's give it a makeover!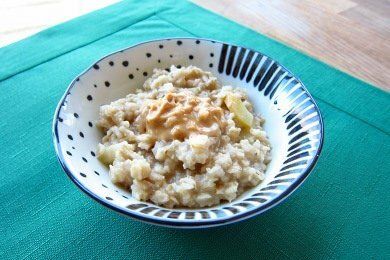 Yes, Snack Girl finds oatmeal a bit dull and is always looking for ways to improve it. Here are a few suggestions:
Use whole oats not instant - they taste better and they are fast
Add nut butter to get more protein in the oatmeal and keep you satiated
Add fruit
My husband started adding peanut butter to his oatmeal because he was always hungry before lunch after eating his oatmeal for breakfast. He adds a tablespoon of peanut butter (which will bring up the recipe below by 58 calories).
I started adding an apple because I have trouble getting servings of fruits and/or vegetables in every meal.
How else are you going to hit 5 per day? The nice thing about the apple is it gets really soft and adds a delicious flavor to the oatmeal.
This creates a great taste combination - apples and peanut butter! And, you have whole grains, a non-meat source of protein, and a fruit to start your day.
This also makes a great snack. This recipe will make you 4 snack size servings that you could pack in small containers. It has a pudding like consistency that might kill that cookie craving late in the day. (It also tastes great with coffee.)
---
Apple and Peanut Butter Oatmeal Recipe

(serves 2)
1 cup water
1 cup apple juice
1 cup rolled oats
1 apple (cored and roughly chopped)
1 teaspoon peanut butter (optional)

Combine water, apple juice, rolled oats, and apple in a small saucepan and turn heat to hight. When the water boils, turn the heat to low and cook, stirring, until the water is just absorbed, about 5 minutes. Cover the pan and turn off the heat. Five minutes later, spoon into a bowl and add 1 teaspoon peanut butter and more sugar (brown sugar, honey, maple syrup) if desired.
265 calories, 4.3 g fat, 52.2 g carbohydrates, 6.3 g protein, 6.1 g fiber, 23 mg sodium, 7 Points+
What do you add to oatmeal to dress it up?
Want to read about snacks?
Are Whole Wheat Ritz Crackers Healthy?
It's Time.....
Lessons From a Coconut
Love Sliders? Here Is A Healthy Version