Sugar Free Gum Without Artificial Sweeteners or Colors? It Exists!
Sugar free gum is a great tool for helping you lose weight. AND, chewing a piece of gum (instead of a cookie) can help you relieve stress.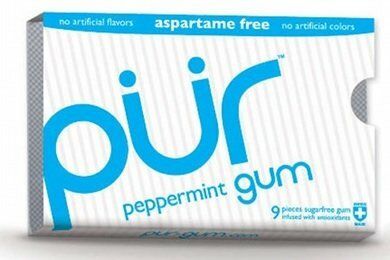 If you grab some gum when you feel the desire to eat, you will give yourself a chance to become aware of your hunger. Are you hungry or do you just want to chew on something?
The problem is that the big commercial sugar free gums (Orbit and Extra) use aspartame, which many of us want to avoid. The Center For Science in the Public Interest has a nice review here aspartame about the potential adverse health effects of aspartame.
What to do?
Snack Girl is on the case with two different gums that don't include aspartame or artificial colors (see the article F.D.A. Panel to Consider Warnings for Artificial Food Colorings, March 29th, 2011).
Both Pür Gum and Glee Gum offer an aspartame and artificial color free choice.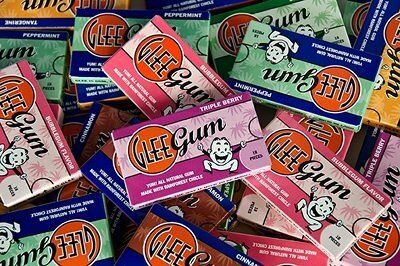 Of course, they are using another chemical to make up for their lack of sugar - xylitol. Xylitol is a naturally occurring sugar substitute found in many fruits and vegetables and it is "tooth friendly".
You can't eat a lot of it because it may cause diarrhea when you have over 65 grams of it - but the piece of gum you are chewing will only have 2 grams. You will be fine if you stick to 20 pieces of gum per day.
Unlike aspartame, xylitol isn't man-made and hasn't been implicated in any cancer causing studies.
Pür gum comes in a couple of different (and yummy) flavors, pomegranate mint, spearmint, and peppermint.
Glee Gum is all-natural, gluten-free chewing gum with no artificial coloring, flavoring, sweeteners nor preservatives. Glee Gum is the only gum in North America made the old-fashioned way using chicle. Chicle is a natural tree sap harvested sustainably from the rainforests of Central America.
All chewing gum used to made with chicle, but today most gum is made entirely from synthetic stuff. Glee Gum uses chicle because it is an eco-friendly way to help conserve the rainforest.
Glee Gum has a sugar free version made with xylitol and they have gum that will put you back a mere FIVE calories with sugar in it.
For example, their cinnamon flavor has sugar, glucose, gum base, rice syrup, natural cinnamon flavor, gum arabic, red beet color, resinous glaze, beeswax and carnauba wax and it is five calories for 2 pieces. Check out Glee Gum's store locator to find it near you.
Both of these gums are great options but they are not ubiquitous. I could not find an aspartame free option at my local Stop & Shop so you are going to have to go out of your way to get your hands on these brands of gum.
Do you want to avoid asparame laden gums?
These products were received for review consideration. No other compensation was provided.
---
$22.54 ($0.12 / Count) Buy on Amazon.com
As an Amazon Associate I earn from qualifying purchases.
---
Want to read about snacks?
Three Reasons To Avoid Yoplait Greek Yogurt
Replace French Fries with This Easy and Healthy Snack
Try This: Vegan Toast
Now You Can Eat A Banana Split Without Splitting Your Pants