I Love You More Than Bacon (Maybe)
Snack-Girl.com has been devoid of bacon until today! Bacon is not known as a healthy food, but it inspires me to song.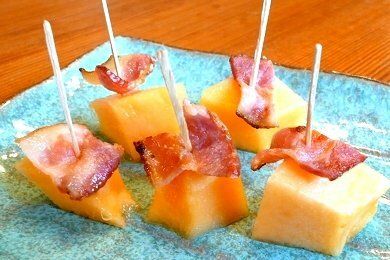 How do you make it healthy? My suggestion is to not eat a lot of it or very often. Use it as a condiment (like ketchup), and you could get your bacon fix without going whole hog (sorry, couldn't help myself :)
I have covered Cantaloupe already - but is amazing to remember that you can eat 4 CUPS before you approach the calories in one Snickers. It is sweet, and when in season, a dream of deliciousness.
And, we are in season right now! My cantaloupe showed up from my farm share yesterday - hurray! I usually pair it with an Italian cured meat called prosciutto -but I didn't have any so I tried bacon.
Bacon rocks.
One hundred of the 141 calories in this recipe is due to the bacon (and 18% of your daily value of sodium). One strip EASILY makes ten bites and so you get to have some meatiness with the healthy sweetness.
It has a sweet, salty, and fatty THANG going on that is quite addictive. Which is why I suggest only cooking one slice of bacon.
My kids actually ate the "bites" in this photograph almost before I could finish shooting it. Can you see the little hand reaching in?
This is also a great party snack. It can be made ahead and refrigerated and served room temperature or cold.
---
Bacon Cantaloupe Bite Recipe
1 slice bacon
1/4 cantaloupe
toothpicks

Cook bacon in pan or microwave (using paper towels). Cut bacon and cantaloupe into 10 small pieces. Spear bacon and cantaloupe with toothpick.
Anyone else got some healthy bacon ideas? Please share.
Want to read about snacks?
How To Pick A Healthy Jam or Jelly
Are You on A See Food Diet?
Should Kids Drink Juice?
This Blueberry Muffin Has a Dark Secret