Baked Chocolate Donuts
You can bake your own chocolate donuts and live to talk about them.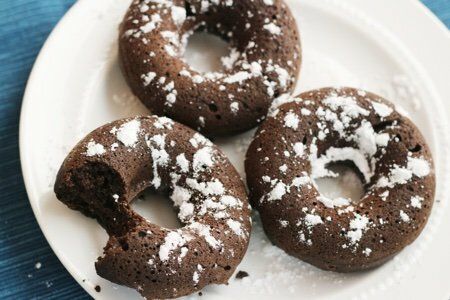 I know that sounds funny but donuts are in the "killer" food category. You know what food I am talking about! Bacon double cheeseburgers, 24 ounce milkshakes, large nachos….
We can only consume "killer" foods as treats.
I developed this recipe in the hopes of creating a donut that will satisfy without being life threatening. The first think you have to toss out is a deep fryer. In my favorite donut recipe without a deep fryer, you use a pan that gives you a donut shape that you can bake in the oven.
Trust me this works. Here is the pan (see below for Amazon link) with the batter spooned in it: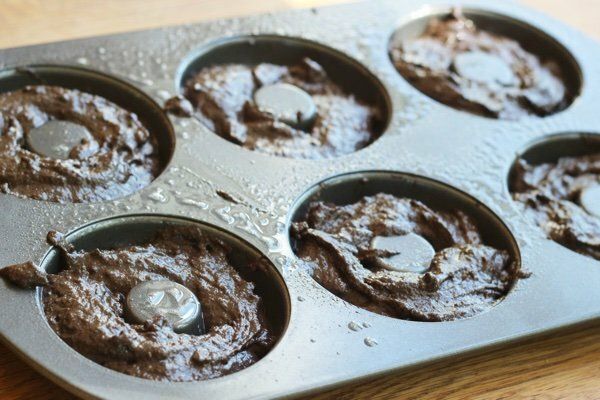 What I love about a donut is how you can bake it FAST (seven minutes) as opposed to a muffin which will take twice as long. These are also smaller than your average muffin.
I made these with less sugar than most recipes like the peanut butter chocolate chip oatmeal bars.
My kids get a real kick out of these baked chocolate donuts because they are always trying to get me to buy them. Every day, I believe, we pass Dunkin' Donuts about five times since we live in Massachusetts where they sprout from the curb like weeds.
I don't know where they get the idea that I am going to stop but that doesn't discourage them from asking a couple of times a day.
When you make them, your kids can watch them bake: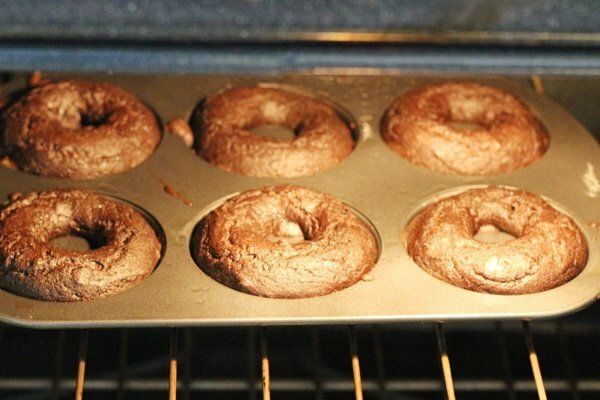 Only seven minutes!!
They are best fresh from the oven (like most baked goods) but they can be frozen for later consumption.
Try these for a treat when you desire chocolate and don't you dare tell anyone that you used white whole wheat flour. This way, they think they are like a "real" donut – fluffy and fatty.
Feel free to frost these if you want to get into truly decadent territory.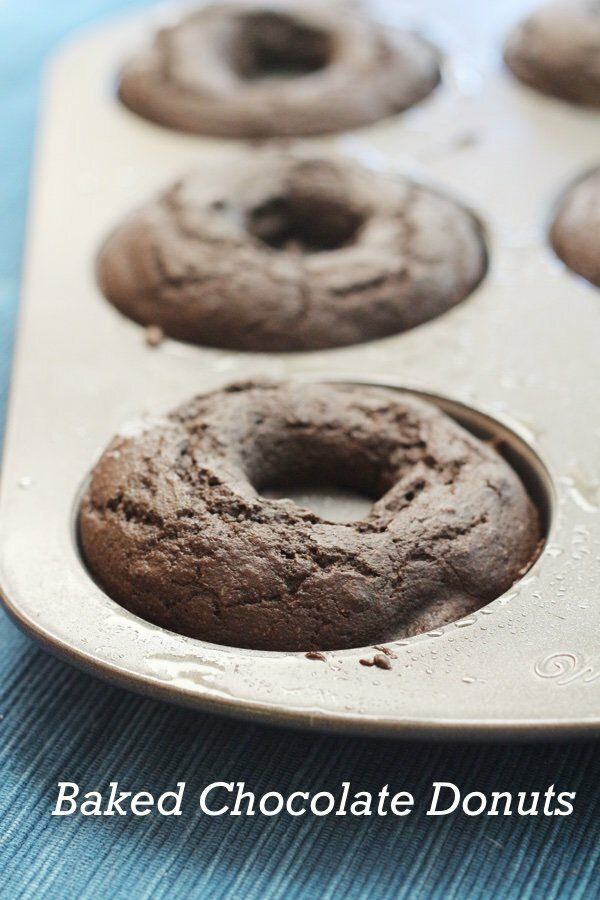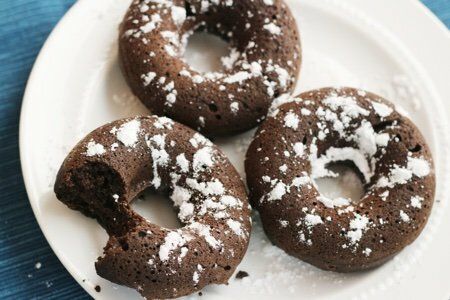 Baked Chocolate Donuts

Makes 8 donuts

Ingredients
1 cup white whole wheat flour
1/3 cup sugar
¼ cup cocoa powder
1 teaspoon baking powder
¼ teaspoon salt
¾ cup plain yogurt
1 egg
1 tablespoon butter, melted
1 teaspoon vanilla extract
confectioner's sugar (optional)

Instructions
Preheat the oven to 425 F. Spray a donut pan with non-stick spray. Mix together the flour, sugar, baking powder, cocoa powder and salt in a medium sized bowl. Add the yogurt, egg, butter, and vanilla and mix until well blended.
Spoon into donut pan and fill wells until 2/3 full. Bake for 7-9 minutes until top of doughnut springs back from your touch. Allow to cool for 4-5 minutes before removing from pan.
In a ziploc bag, add about 1/4 cup confectioner's sugar. Add donut and shake until coated (repeat). Serve warm or store in a sealed container for later.
Nutrition Facts
For one donut = 126 calories, 2.9 g fat, 1.5 g saturated fat, 22.3 g carbohydrates, 10.6 g sugar, 4.5 g protein, 2.3 g fiber, 109 mg sodium, 5 SmartPts
Points values are calculated by Snack Girl and are provided for information only. See all Snack Girl Recipes
---
$10.39 $9.50 Buy on Amazon.com
As an Amazon Associate, I earn from qualifying purchases.
---
Other posts you might like:
---

Snack Girl has a donut problem. She can tell you within a five mile radius where all the delicious donuts can be purchased....
---

Oh, peanut butter, why do I love thee? Let me count the ways....
---
---
Get Free Email Updates! Yes please!
---