Are baked snap peas as good as fresh snap peas?
June 8, 2009
What are baked snap peas? Are they healthier than potato chips?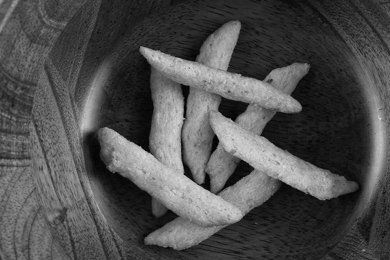 Baked snap peas are a mashed mixture of green peas shaped into an elongated pea shape and baked with oil and salt. They have the same calories per ounce as potato chips. You will get more baked snap peas per ounce than potato chips.
Baked snap peas are equivalent to Veggie Chips. The attraction is the hope that you would be eating your vegetables. Most of us need to eat more vegetables, but a better choice is an actual uncooked vegetable such as Sugar Snap Peas or Celery Stick.
For example, 1 ounce of Sugar Snap Peas sets you back about 14 calories. So you could eat 11 ounces or about 1 1/2 cups of Sugar Snap Peas to have the same amount of calories as 1 ounce of baked snap peas. Also, Sugar Snap Peas are still in their natural form and retain all their vitamins, fiber, etc.
Friend of Snack Girl, Valarie, believes baked snap peas are good for putting on a salad like a crouton. This is an excellent way to enjoy them and very appropriate.
If you are eating them by themselves, remember that these should be considered a treat - just like potato chips.
Want more like this?
Wasabi Peas: Are They a Healthy Choice?
What is the vegetable in these chips? Potatoes

Snap along to a healthy place