A Buffalo Cauliflower Recipe For The Snack Girl Recipe Swap
Last month, I featured a recipe swap with carrots as the featured vegetable. Thanks so much for sharing your recipes.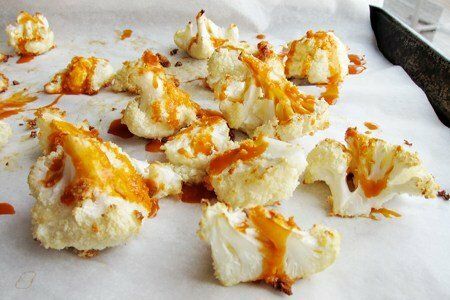 Read that post here: Our First Recipe Swap Featuring Carrots & My Favorite Pickled Carrots.
This month, I am hoping we can share cauliflower recipes. I am planning cabbage for March, and I have selected asparagus for April. I can't wait until April!
Cauliflower is one of the foods that you should eat if you can figure out how to cook it. One of it's most difficult attributes is that it is bland, so you have to figure out how to season it.
This recipe has a whopping 175% of your daily value of vitamin C and it is very high in vitamin B6. You can't go wrong eating cauliflower.
A reader sent me the suggestion for the recipe below. I had seen some other food blogs before the Super Bowl suggest making crunchy cauliflower with Buffalo wing sauce, but I didn't get around to trying it.
You know, I think this works as long as you forget about the deep fried chicken that the sauce is usually served with. I did find that I liked it without the sauce better than with it, and I served it with a dash of Kosher salt.
Be very careful with Frank's Red Hot. Not only is it spicy but there is 340 mg of sodium in one tablespoon. I drizzled it rather than soaking the cauliflower in it.
Here are two other Snack Girl favorites featuring cauliflower:
Please share your favorite cauliflower recipes with all of us.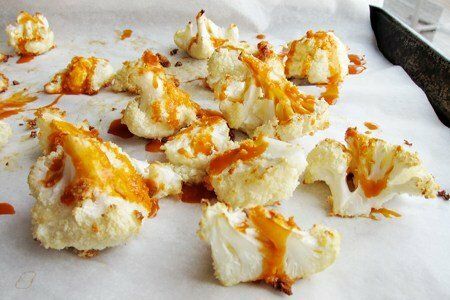 Buffalo Cauliflower Recipe
Makes 3 servings, one cup each
Ingredients
1.5 pounds cauliflower (about ½ large head or one small head)
2 egg whites
⅓ cup panko or other bread crumbs
3 tablespoons Frank's Red Hot Sauce (optional)
Instructions
Heat oven to 425 F. Line a rimmed baking sheet with parchment paper.
Core cauliflower and cut into small florets. Beat egg whites with a fork until frothy. Mix egg whites and cauliflower in a bowl until the cauliflower is coated. Add panko and mix until cauliflower is coated with bread crumbs.
Bake for 20 minutes or until cauliflower is crispy. Drizzle on Frank's Red Hot Sauce and serve.
Nutrition Facts
120 calories, 0.9 g fat, 0.0 g saturated fat, 21.3 g carbohydrates, 6.3 g sugar, 8.5 g protein, 6.2 g fiber, 362 mg sodium, 3 Points+
Points values are calculated by Snack Girl and are provided for information only. See all Snack Girl Recipes
Other posts you might like:
---

Do you ever get stuck with having to make something and not wanting to drive to the store?...
---

Vegans, avert your eyes. We are going to the land of chicken and you know you are eating an animal when you chomp into a wing....
---
---
Get Free Email Updates! Yes please!
---