A Tomato Salad For Tomato Lovers
Can you believe those colors? You know how they say to "eat the rainbow". Here is your chance!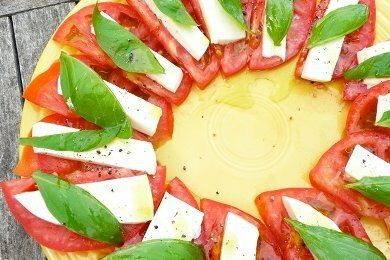 I guess it looks more an Italian flag than a rainbow. This summertime salad is one of my personal favorites because I love tomatoes.
Someone commented on the Watermelon Feta Salad post that any salad you could do for tomatoes you could do for watermelon. This might be pretty amazing with watermelon too.
But, isn't it going to be a calorific snack with that cheese? The key here is to not put a HONKING slice of mozzarella on your tomatoes. I measured the ingredients very carefully for the 137 calorie recipe and it works.
Think of the cheese as an accent to the tomato. The same thing can be said of the olive oil. At 160 calories a tablespoon, you better be careful how much you drizzle! This salad could easily get out of control (but, I'm not so sure that is a bad thing :)
You should use the freshest mozzarella you can find. They come in little balls packed in water. You find them in the specialty cheese section of your supermarket and they aren't cheap (probably around $5 a ball).
Packaged mozzarella in blocks would not work for this salad, and you should splurge on the good stuff.
I like this salad for lunch, and I would then use more cheese and tomato to make it work. It takes about 5 minutes to prepare and is deeply satisfying now that tomatoes are in season. Hurray!
My kids will eat this salad without the basil. My daughter tried it but it tasted too strongly for her.
---
Caprese Salad
1/2 tomato
1 ounce fresh mozzarella
5 basil leaves
1 teaspoon olive oil
salt and pepper to taste

Slice tomato with a serrated knife into thin slices. Slice mozzarella into thin slices. Alternate tomato, mozzarella, and basil onto plate. Drizzle with olive oil and season with salt and pepper.
132 calories, 10.3 g fat, 2.4 g carbohydrates, 7.7 g protein, 0 g fiber, 151 mg sodium, 4 Points+
Please share your favorite tomato recipe.
Want to read about snacks?
You Need A New Food Obsession
How Do You Define Results? Snack Girl Challenge
What Everyone Needs to Know About Tostitos
Turn Your Dull Toast into a Terrific Snack