Can You Get A Healthy Meal Here?
Snack Girl recently visited a chain restaurant (not the one photographed above) and conducted her own thrilling investigation of healthy options.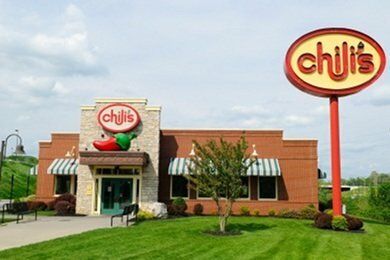 What is the healthiest food you can eat? I think most of us would say it is fresh food made from real ingredients that are minimally processed.
When I go out to eat, I expect that a chef has cooked the meal that is served to me. That is what I am paying for, right? I am there because I don't want to cook.
At the chain restaurant I visited (to protect the waitstaff I will not name it - let's call it Mario's), I ordered minestrone soup. When it arrived it was SO salty that I decided that it was inedible and did something I never do - I complained.
When the waitress approached, I said, "This soup is REALLY salty. I know a little about food and I think the chef made a mistake."
The waitress said, "Do you love food?".
I replied in the affirmative.
"Then why are you eating here?"
This was not the answer I was expecting :)
"I can't change the soup because it is made at our headquarters and we just heat it up. I hate it when customers complain and there is nothing I can do for them."
Ummm, okayyyy.
Mario's business plan is to make a bunch of cheap food in one place and have their staff just heat up the PROCESSED food that you are served.
Try this - go to a chain restaurant where you sit down and order such as Applebee's, Chili's, Outback Steakhouse, Friendly's, Denny's, Ruby Tuesday, Houlihan's, etc. and make a wrong turn in the restaurant.
Yes, I am suggesting that you walk quickly toward the kitchen entrance (as if you need to go to the bathroom) and then spend as much time as they allow you peering into the kitchen! What do you see there?
Well, I have done this and was shocked to see very little fresh food. There was a couple microwaves, a grill, a deep fryer, and not much else. The staff wasn't cooking, it was tossing prepackaged food together to serve on your plate.
I have also watched a frozen food truck with BOXES of frozen hash browns, sausages, etc. unload into a local diner (not a chain).
Why am I paying someone to heat up CRAP that I could heat up for myself for a lot less money?
The restaurant I went to, Mario's, has this beautiful oven in the center that they use to make pizzas - so, I thought I was going to a place where they actually cook. The kitchen is open and I realized that they are just putting together pre-made dough, sauce, and cheese to make the pies.
Nothing is really fresh and even the salads have a topping of mixed lettuces while the bottom of the salad is just iceberg lettuce.
Just like Domino's! (except that I am paying a lot more for it!)
I have found restaurants in my town that do make things from scratch (thankfully) and I have made it my mission to avoid all restaurants that reheat packaged food and then serve it to me as if someone was actually cooking.
I can't believe I am writing this - but go find restaurants with chefs that actually COOK when you go out to eat. I am sure that food will be tastier, fresher, and healthier.
What do you think of chain restaurants?
---
Want to read about snacks?
You Don't Need The Bread For This Healthy Snack
Which Bread Is The Healthiest?
Lighter, Fluffier Trail Mix
Evidence That Junk Food Snacking Will Shorten Your Life