Cheerios: A Good Choice For a Healthy Snack?
Snack Girl has spent A LOT of time in the cereal aisle looking for a great choice for Snack Girl readers. It isn't easy to find a cereal that passes the Candy or Breakfast? Evaluate Your Cereal test.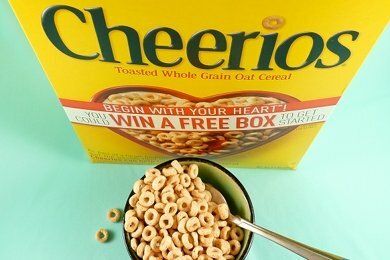 This YELLOW box with the heart on it called out to me from the shelf. And, my friend Katherine, asked me what I thought of this icon of American cereal.
How does Cheerios do?
---
Healthy or Crappy Cereal Test
1. Is the first ingredient whole grain? Cheerios passes with whole grain oats as its first ingredient.
2. Is sugar, high fructose corn syrup, molasses, honey the second ingredient? Cheerios passes again with sugar being the third ingredient.
3. One serving must provides at least 4 grams of fiber. You can remember this one with Four Fiber. Cheerios fails - but by just one gram. It has 3 grams of dietary fiber per serving.
---
So, Cheerios fares pretty well. It tastes a bit like cardboard to me, and it is a processed food and that means that it might not be the best for your blood sugar after you eat it.
Will you get a sugar spike from eating them?
Cheerios has a glycemic index (GI) rating of 74 versus old fashioned rolled oats, which have a GI of 46. A Lower GI rating indicate that a food has less impact on blood sugar levels.
(To review my definition of Glycemic Index see Multigrain Tostitos)
Basically, the more processed a food is by the food manufacturer - the more "digested" it is before it hits your blood stream.
Overnight Oatmeal is a better choice, and it is cheaper per serving. But, we don't always want to eat oatmeal. Personally, I like oatmeal better than Cheerios, but I don't always have the time to make oatmeal.
My suggestion is to treat Cheerios like Toast. Use it as a medium for other good stuff like strawberries. Add a little peanut butter with your milk anda banana.
Pump up the nutrition of the Cheerios with other lower GI foods and I think you have a healthy breakfast. All on its own with just milk (which is filled with sugar), it is not so great.
What is your favorite healthy packaged cereal and with what do you serve it?
Want to read about snacks?
Snack Girl Challenge: Lose Ten Pounds in 3 Months
Olive Tapenade from Clean Food Cookbook
3 Reasons to Avoid Ritz Crackers
Sneezing Your Way Through Spring? Try This Sweet Cure