A Cherry Tomato Salad For Summer
My farm share just gave us the go ahead to pick AS MANY cherry tomatoes as we want! Is that crazy?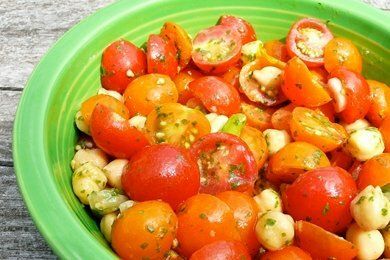 So, there I am with my bucket standing, out in a field, jamming them into my mouth. After 30 minutes of hot work, I get a couple pounds of pure heaven.
There is NOTHING like a fresh tomato picked off the vine and eaten within seconds. I really believe that and you can't argue with me.
But, if you have a few pounds, you might want to dress them up a bit. After my field work, I got out one of my favorite cookbooks, "Clean Food" by Terry Walters (see below).
Terry divides her book into seasons, and there it was - Chickpea and Cherry Tomato Salad with Cilantro Dressing - in the Summer section. I gave it a try and absolutely loved it.
It is incredibly nutritious, and it has a fantastic texture. The softness of the tomatoes plays against the crunchy and nuttiness of the chickpeas. I used 2 cans of chickpeas (rinsed) for the recipe.
Give it a try and tell me what you think!
---
Chickpea and Cherry Tomato Salad with Cilantro Dressing Recipe

(reprinted with permission from Clean Food by Terry Walters (Sterling Publishing, 2009))
(serves 6)

2 pounds cherry tomatoes (mix varieties when possible)
3 cups cooked chickpeas
4-5 scallions, chopped

DRESSING
1 garlic clove
1 large bunch cilantro (about 1 cup)
1/2 cup extra virgin olive oil
2 tablespoons lemon juice
Sea salt and freshly ground black pepper

Cut tomatoes in half and place in large bowl of chickpeas and scallions.

With food processor running, drop in whole garlic clove and mince. Turn off processor, scrape down sides, add cilantro, olive oil, lemon juice, salt and pepper. Pulse to combine. Drizzle dressing over salad, toss to coat and serve.
How do you serve cherry tomatoes?
---
$30.00 $14.63 Buy on Amazon.com
As an Amazon Associate I earn from qualifying purchases.
---
Want to read about snacks?
Sugar Free Jam In Seconds (No Artificial Sweetener!)
A Beet Recipe For Beet Haters
Freezer Jam For Dummies
Want Fewer Dirty Dishes? Try This Healthy Trick