Sugar Free Jam In Seconds (No Artificial Sweetener!)
This was my breakfast this morning! Snack Girl had to show off her recent innovation inspired by Freezer Jam For Dummies.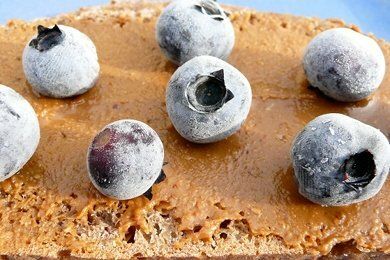 Who needs to make jam? Or buy it for that matter? How about just putting some fresh berries on your toast!! I saw a variation on this on Fit Sugar and I just had to try it.
My blueberries were frozen, and that was a little strange. If you had fresh berries, just piling them on top of toast with something to stick on there is just fabulous.
I used my new favorite spread - Sunflower Seed Butter. I started eating it when my daughter couldn't take peanut butter to camp (alas, too many peanut allergies). I wish I didn't like it more than Which Peanut Butter is Healthiest? because it costs TWICE as much. Or at least the brand I found cost twice as much :(
Of course, this jam solution isn't actually "sugar-free". Berries have sugar in them, but the sugar comes in such a great package. You get vitamins, minerals, anti-oxidants, and just pure yumminess with no ADDED sugar.
There are brands of jams that have Splenda added to them such as Smuckers. The downside of this "no sugar added jam" is that it doesn't taste as good as fresh berries. Poor Smuckers just can't compete with the real thing.
The cost of fresh berries can be prohibitive but a jar of jam usually costs about $3. If you stopped buying jam and started buying berries, it would still cost you more in terms of dollars. But, would cost you less in terms of calories.
What other berries would work? Raspberries, strawberries, blackberries, etc. Think of a flavor of jam. How about apricot? If apricots are in season, skip the jam and just slice an apricot for your toast!
Think of the cost as an investment in your healthy self!!
How do you replace jam?
Want to read about snacks?
BPA-Free Lunch Box - a Green Giveaway for Back to School
A Beet Recipe For Beet Haters
Freezer Jam For Dummies
Want Fewer Dirty Dishes? Try This Healthy Trick