Chicken McNuggets Experiment: Rot or Not?
Snack Girl readers have spoken and they have said, "Lisa, can you see if McNuggets rot?". So, here we go!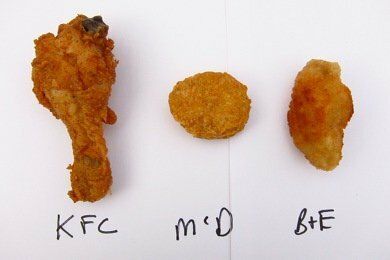 SEE THE RESULTS HERE: McNugget Rot Results Are In!
I have chosen 3 items for the latest Snack Girl "experiment".
1. KFC Original Chicken
2. McDonald's Chicken McNugget
3. Bell and Evan's Chicken Breast Nuggets

(They are photographed in that order from left to right). I have placed all three in separated plastic bags and they will sit at room temperature. In a week, I will assess if there has been any decomposition.
In September, I tested KFC fried chicken - see results here: Fast Food Fried Chicken Experiment: The Results Are In!
The chicken rotted and my theory is that the fried chicken is closer to REAL food than other fast food.
Since that experiment, I have been asked about McNuggets and I thought it would be interesting to see if the more processed form of chicken decomposed at the same rate as a whole piece of chicken.
This is the question I am attempting to answer:
Are McDonald's Chicken McNuggets like fried chicken or are they something else?
I added Bell and Evan's Breaded Chicken Breast Nuggets because so many people have told me that they are great. They are (supposedly) a healthy alternative to the fast food chicken nugget. The package boasts a anti-junk badge and the ingredients are simple:
Chicken breast meat, water, salt. Breaded with unbleached white flour, water, salt, sugar, dried yeast, spices, paprika
On the other hand a McDonald's Chicken McNugget boasts this list:
Chicken, water, salt, sodium phosphates. Battered and breaded with: bleached wheat flour, water, wheat flour, food starch-modified, salt, spices, wheat gluten, paprika, dextrose, yeast, garlic powder, partially hydrogenated soybean oil and cottonseed oil with mono -and diglycerides, leavening (sodium acid pyrophosphate, baking soda, ammonium bicarbonate, monocalcium phosphate), natural flavor (plant source) with extractives of paprika. Prepared in vegetable oil (Canola oil, corn oil, soybean oil, hydrogenated soybean oil with TBHQ and citric acid added to preserve freshness). Dimethylpolysiloxane added as an antifoaming agent.
I LOVE having Dimethylpolysiloxane added to my food. It reminds me of spring time :)
Actually, dimethylpolysiloxane is an important component of Silly Putty. Funny, because I ate the other 3 McD's chicken nuggets for lunch and they tasted like Silly Putty.
I also tasted one of the Bell and Evan's nuggets. It tasted pretty good (much better than McD's). Of course the B&E cost $7 for a package, which turned out to be 50 cents per nugget. Four McNuggets cost $1.25 and four of B&E will cost you $2.00. Frankly, I think the extra 75 cents is worth it because they taste much better.
The control is the KFC chicken because it took no time to rot in the last experiment.
What do you think will happen in the McNugget Experiment?
Want to read about snacks?
Change Your Perspective To Change Your Diet
Want To Prevent Breast Cancer? Try This Awesome Snack
Helping You Kick Your Soda Habit
Fast, Delicious, Healthy - What Else Could You Want?