McNugget Rot Results Are In!
Last week, Snack Girl started another experiment see here: Chicken McNuggets Experiment: Rot or Not? . Today we get to review the results.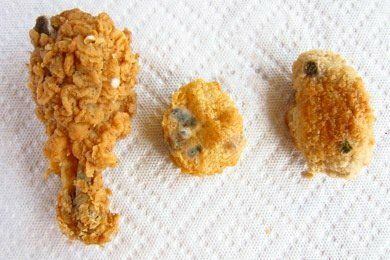 From left to right:
1. KFC Original Chicken
2. McDonald's Chicken McNugget
3. Bell and Evan's Chicken Breast Nuggets

After one week, all had visibly decomposed.
It is important to remember that McDonald's food uses chemicals that are rated safe by the FDA. At least for the bacteria and fungus that "ate" these McNuggets, there was nothing toxic.
I want to give a shout out to Bell and Evan's Chicken Breast Nuggets. Their sodium wasn't out of control (360 mg per serving - 15% of your Daily Value) and they tasted really good.
They are expensive though ($7 per package) when compared to buying quality chicken and baking it yourself. But, when you are pressed for time, give them a try.
(My kids LOVED them.)
Want to read about snacks?
A Pumpkin Spice Latte With 77 Calories
Saving The Brussels Sprouts
A Thanksgiving Feast Cooked in 10 Minutes? Done!
What You Need To Know About Hot Dogs