Chobani Simply 100: Friend or Foe?
Chobani is the yogurt we all should love. Look at that packaging!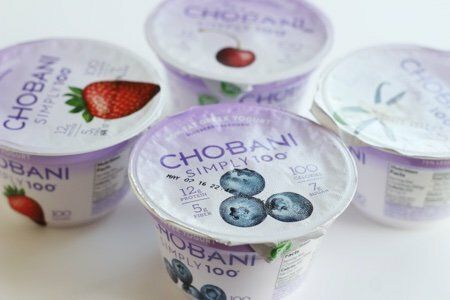 I had the pleasure of meeting the marketing team and seeing a Chobani yogurt plant in upstate New York. It is an incredible operation that gave me new respect for what it is to be a food company – especially one that works with a perishable product.
Since that meeting, I haven't heard from Chobani much because I wasn't very nice. They asked me what they could change to make their product more healthy and I told them to cut the sugar (rather vehemently). I've been on a couple of trips to big food companies and every time I end up being very hard on them.
I should love Chobani 100 because this product does what I asked of Chobani. It only has 7 grams of sugar – which is perfect for yogurt. These are the nutritional facts for the strawberry yogurt flavor:
100 calories, 0.0 g fat, 0.0 g saturated fat, 15.0 g carbohydrates, 7.0 g sugar, 12 g protein, 5.0 g fiber, 65 mg sodium, 3 SmartPts
And, unlike Oikos Triple Zero, there is fruit in the ingredients. They are using stevia leaf extract and monkfruit extract to ensure that the yogurt is sweet enough without the extra 5 grams of sugar they usually add to their regular products.
Ingredients for Banana Strawberry Chobani 100:
Nonfat Yogurt (Cultured Pasteurized Nonfat Milk, Live and Active Cultures: S. Thermophilus, L. Bulgaricus, L. Acidophilus, Bifidus and L. Casei), Chicory Root Fiber, Strawberries, Water, Banana Puree, Evaporated Cane Juice, Natural Flavors, Pectin, Locust Bean Gum, Monkfruit Extract, Fruit And Vegetable Juice concentrate (For Color), Stevia Leaf Extract, Lemon Juice Concentrate. Contains Milk.
There it is again! Chicory root fiber (also known as inulin). When I wrote about chicory root fiber a couple of weeks ago, I was surprised by this comment from Robin:
Thank you SO much for this information. I have been eating Dannon's Oikos now for a couple of weeks and couldn't figure out WHY was a so gassy and bloated.....I am now going to stop eating that brand and see it that is the cause. THANK YOU SO MUCH.....
Because inulin is a natural ingredient, I believe there is no warning on products that contain it. Maybe there should be because many people have a not very fun issue with it. It is a little sad that we need to be so aware of every new ingredient that is added to our food. This type of thing motivates me to stick to the "less than five ingredients" rule about processed food.
My take on Chobani 100 is that it is almost entirely the same as Dannon's Oikos Triple Zero except for taste. I found the fruit Chobani flavors to taste like soap. There was a floral thing going on that reminded me of sucking on a Dove soap bar. Also, I tasted that bitter kick from the stevia that I hate.
Chobani 100 tasted medicinal to me and after trying 4 flavors, I tossed it all out.
Food, even when you are trying to cut back, should be pleasurable. You should grab your container off the shelf and be excited about having your snack. It shouldn't be a form of punishment because you gained 10 pounds last year.
My advice (broken record here) is to buy plain yogurt and mix in fresh fruit or a little of your favorite jam. This will taste infinitely better than Chobani 100.
Other posts you might like:
---

Those black containers up there with the NFL logo don't exactly look like they are being marketed to women....
---

I noticed when I started looking at lower calorie Greek yogurt that inulin (also known as chicory root fiber) is popping up everywhere....
---