Desperately Seeking Delicious and Healthy Yogurt
The yogurt choices in the supermarket seem infinite. They seem to be only surpassed by cereal with all the crazy flavors and brands. After posting Yoplait Strawberry Yogurt, Snack-Girl has been on the hunt for a great yogurt choice.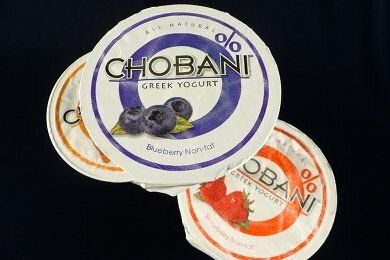 I am looking for a nationwide brand that we can all count on when anywhere in the country.
Chobani is a possibility. It is a brand of greek yogurt, which means it has a thicker consistency than regular yogurt.
The good news is that it is made with easily recognizable ingredients such as non-fat milk, sugar, and fruit. It has 20g of sugar, but what do you expect from a non-fat yogurt? Chobani needs to add sugar to make up for the lack of fat.
The price is very similar to the Yoplait Strawberry Yogurt. It was just a little more expensive. So, you can buy these to substitute for Yoplait Strawberry Yogurt, and know that you aren't eating chemicals or high fructose corn syrup.
BUT, the taste. This is just my opinion, but it had this finish that was like chalk. I really want to like this stuff and give it a great rating because it is a much better choice than many other yogurt brands.
In my scientific opinion, this stuff is just yucky. Blech.
Also, I don't think non-fat is the way to go, but they didn't have any low-fat Chobani at the store. For the few calories the fat adds to the yogurt, the taste is much improved with a little more fat.
I am sticking with my recommendation of DIY Yogurt. Mix a great brand of plain yogurt with jam or maple syrup for an excellent snack.
What is your favorite brand and flavor or yogurt? Please share, I need the help.
Want more like this?
A Dip that Won't Kill You
Sneak Healthy Dip into Your Super Bowl Party
A Grecian Snack for All Time