Celebrating Easter? Wow Your Family with This Luxurious Low Cal Dip
Easter is around the corner, and for many it is a time to get together with family and share a BIG meal. What can you make that will be both luxurious and keep you from unbuttoning your pants?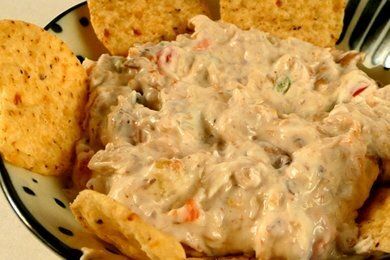 How about a crab dip? Crab is naturally low in calorie and tasty - I used it in crab salad earlier in the month for delicious results. This recipe is even easier (no chopping required) and is surprisingly luxurious.
Using a combination of Neufchatel cheese, and salsa, the dip is creamy and nutritious. Neufchatel cheese is a lower calorie cousin of cream cheese and can be found next to it in your dairy section. Use fresh salsa (not the jarred kind) with your favorite level of spice.
How do you keep the cost down? Use CLAW crab meat, not jumbo lump crab meat. Claw meat is cheaper (and blue) and very tasty but not as pretty as jumbo lump crab meat. No one is going to notice because you are putting it in a dip.
For a mere $6 for 8 ounces of crab meat, you can make a dip that serves 8 people. When I made this dip, it was a hit and I still had a bunch left over.
Snack-Girl is giving away $20 of Phillips Foods crab meat to a Snack-Girl reader. To be sure it is sold near you, check out Store Locator.
To enter, just comment about your favorite Easter tradition below in the comment section.
Check out the Phillips Foods Newsletter. If you sign up, you get a $2 off coupon to try their crabmeat!
---
Salsa and Crab Dip

(serves 8)

1 (8 ounce) package Neufchatel cheese
1 (8 ounce) packaged claw crab meat
1/2 cup fresh salsa
juice of one lemon

Soften Neufchatel cheese in microwave. Mix ingredients in a small bowl. Adjust flavor (needs salt? more lemon juice?) and serve with sliced raw vegetables, crackers, or small squares of whole grain bread.
---
What will I win?
Two coupons from Phillips Foods equaling $20 in cooked crab meat.
How do I enter?
Comment in the box below about your favorite Easter traditions.
Additional Ways To Enter:

Follow Snack-Girl on FaceBook.

Comment on our wall about your favorite Easter tradition.

Follow Snack-Girl on Twitter

Tweet this post (use the Tweet Button in the Share Box at the top of this post).

Snack-Girl can follow and count all the additional entries using magical website tools.
Am I eligible to enter?
Anyone with a valid e-mail and a U.S. mailing address is eligible.
When do I find out if I am the winner?
The winner will be announced on April 5th, 2010. You will have 2 weeks to e-mail us back with your home address so we can mail the prize.
---
Want to read about snacks?
Sneak Healthy Dip into Your Super Bowl Party
How To Make A Healthy and Glamorous Snack
A Dangerous Combination, Like Teenagers and Alcohol