Love Chocolate Shakes? Give This Smoothie A Try
Sometimes I wish I was the kind of person who would walk by an ice cream store and not notice it.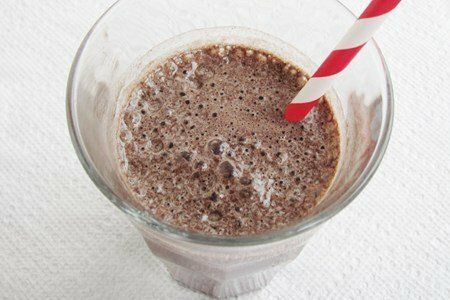 But, my friends, that is not me.
In fact, when I attended grad school, I had to walk by a "Creamery" every day - MULTIPLE times a day. In this creamery, they made chocolate milkshakes and at about 3 PM on a hot day, I was standing in line.
I had a chocolate milkshake problem. If I had just known about the smoothie below, I would have saved money, calories, and that creeping feeling of guilt associated with too many treats.
A medium chocolate milkshake at Burger King is:
760 calories, 21 g fat, 15 g saturated fat, 131.0 g carbohydrates, 112 g sugar, 14.0 g protein, 2.0 g fiber, 430 mg sodium, 21 Points+
If 112 grams of sugar, more than 22 teaspoons of sugar, doesn't shock you, I don't know what will. If you drink these, please reduce your consumption and substitute the smoothie below because it is GOOOOD.
On a lighter note, I am going to give out my first food label award. See below: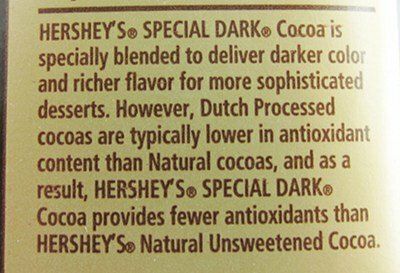 I am impressed with Hershey's for telling us that this (my favorite) Special Dark cocoa is not as healthy as regular cocoa. They did it in large print on the side of the package and I have NEVER seen a label like this. I award Hershey's the first "Truth On The Label" award for being so honest.
Thank you, Hershey's, for being so clear. Their product, Special Dark Cocoa, is delicious. It has a stronger chocolate flavor and I use it when I make hot chocolate.
How do you deal with a chocolate shake problem?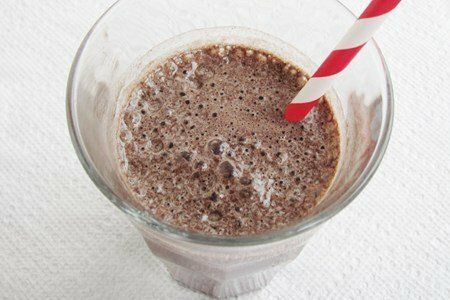 Chocolate Smoothie Recipe
Makes two servings
Ingredients
4 ice cubes
1/2 cup water
1/2 cup whole milk
1/2 ripe banana
2 tablespoons unsweetened cocoa (Hershey's Special Dark)
2 teaspoons agave nectar, maple syrup, or honey
Instructions
Pulse ice cubes in blender to crush. Add milk, banana, cocoa, and agave nectar and blend until frothy. Serve immediately.
Nutrition Facts
For one cup = 105 calories, 2.8 g fat, 1.6 g saturated fat, 20.4 g carbohydrates, 14.4 g sugar, 3.3 g protein, 3.1 g fiber, 28 mg sodium, 3 Points+
5 SmartPts
Points values are calculated by Snack Girl and are provided for information only. See all Snack Girl Recipes
Other posts you might like:
---

Snack Girl isn't really a fan of smoothies because she finds them too sweet. But, there is one style of smoothie that motivates her to get out the blender.
---

If you're looking for a snack that tastes delicious AND is good for you, then you're in for a treat!
---
---
Get Free Email Updates! Yes please!
---