A Simple Fall Treat With Apples (No Peeling Necessary)
Anyone else find themselves reading "American Girl Magazine"? Some child left it on our coffee table.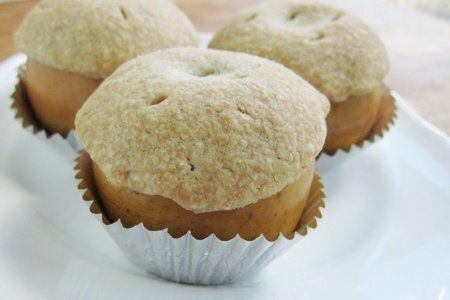 As I was perusing all the great articles on how to be an awesome girl, I found a recipe that looked Snack Girl worthy.
Three years ago, I posted a baked apple recipe that I believed would be hot. No one liked it! I thought maybe it was the photo or perhaps people enjoy peeling apples. I, for one, love apples but hate peeling them.
Then, I saw this baked apple with the addition of crust on the top. It is the same recipe as mine, but now we have a wee bit of pastry added. I can see how this would be appealing so I made it.
I baked my apples in foil muffin wrappers but not in a muffin tin. I couldn't find apples that would fit in my muffin tin so I skipped using it. I used a baking dish, but the muffin wrappers are important because they hold in the apple juices. Also, they make it easy to serve.
The bad news is that once you add pastry, you are going to add 100 calories of butter and for those watching their weight - they may want to skip it. Or you could serve yourself one apple half to keep the treat in check.
One frozen pastry crust can be stretched to fit on 8 apples. Happy fall!
Do you like baked apples? Please share.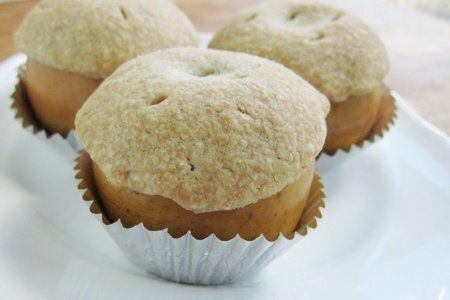 Single Serve Apple Pie
Makes 8 pies
Ingredients
8 small apples
¼ cup brown sugar
3 tablespoons butter
¼ cup raisins
1 teaspoon cinnamon
1 packaged pie crust, thawed
Instructions
Take pie crust out of the freezer to thaw as you prepare the apples. Preheat oven to 400 F. Core the apples with an apple corer (see below). Mix brown sugar, butter, raisins, and cinnamon in a small bowl. Place apples in muffin wrappers in a baking pan.
Fill apples with butter mixture. Take pie crust out of tin and flatten on cutting board. Using a glass or cookie cutter cut out a small circle. Lay the circle of dough on top of the apple and cut a few slits in it.
Bake apples for 20 minutes or until pastry is brown. Serve warm or room temperature.
Nutrition Facts
For one apple = 228 calories, 9.5 g fat, 36.5 g carbohydrates, 23.2 g sugar, 0.9 g protein, 4.0 g fiber, 136 mg sodium, 6 Points+
Points values are calculated by Snack Girl and are provided for information only. See all Snack Girl Recipes
---
$11.95 Buy on Amazon.com
As an Amazon Associate I earn from qualifying purchases.
---
Other posts you might like:
---

The apple season is in full swing here in New England and I can't stop buying them. The taste of fresh apples is one of life's great joys....
---

If you read this website, you BETTER have apples in your fridge (or I'm gonna buy you some :) This is it people - apple season!...
---
---
Get Free Email Updates! Yes please!
---