Easy Healthy Banana Bread Recipe: Use Those Ripe Bananas!
This easy healthy banana bread recipe is for those of us with too many ripe bananas. I think this is an easy problem to solve.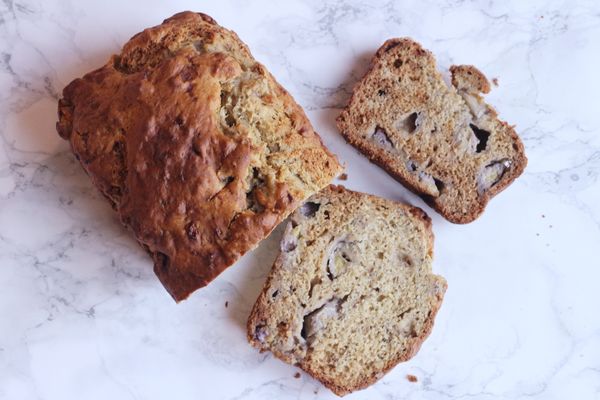 The last time I went to the store (Monday), I filled my cart to the brim. I bought a ton of food and I believe I thought I was feeding a family of monkeys - because by mid-week - I was swimming in ripe bananas.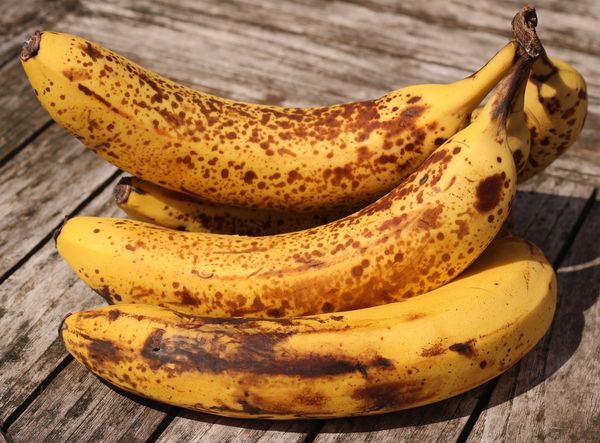 This is the type of problem that I like to have. Over the years, I have created many recipes for ripe banana use such as my fast banana bread and banana quesadilla snack.
No problem!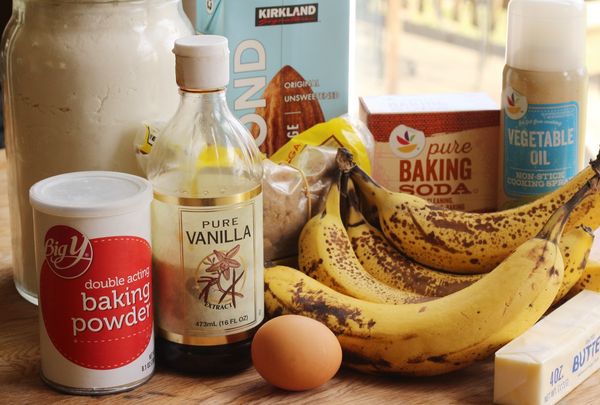 Except, I did have a problem because I was out of whole wheat flour (and there was none to be found).
Whole wheat flour is delicious in banana bread because the bananas are so assertive in their flavor that they mask the bitter flavor in whole wheat that people dislike. Banana bread is also dense (not fluffy) so whole wheat doesn't detract from the texture.
If you want to use whole wheat flour - just add 1 cup of whole wheat and 1 cup of all-purpose as a replacement for 2 cups of all-purpose flour in this recipe. If the mixture seems too thick to you (whole wheat flour absorbs more liquid) add 1/4 cup milk (almond will work!).
This recipe is so easy because you only use one bowl (and no mixer!). Mash three of the bananas in a bowl.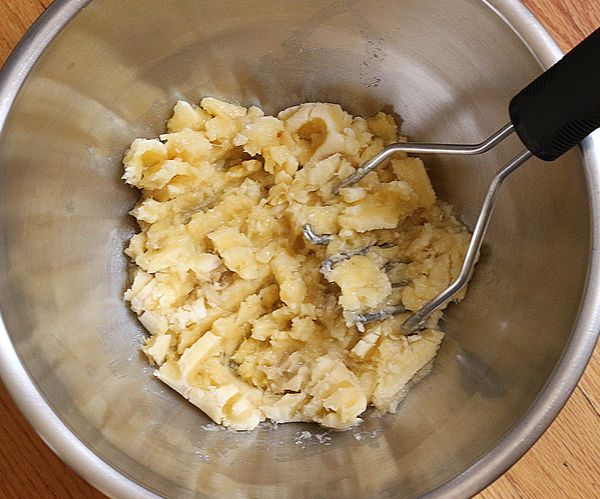 Take two more bananas and cut them into chunks. Use FIVE bananas!
The chunky bananas add a level of flavor and moisture that you need because the butter in this recipe is greatly reduced compared to regular banana bread.
I have added a stick of butter in the past when I make a super luxurious version but today I am only using two tablespoons of butter for flavor.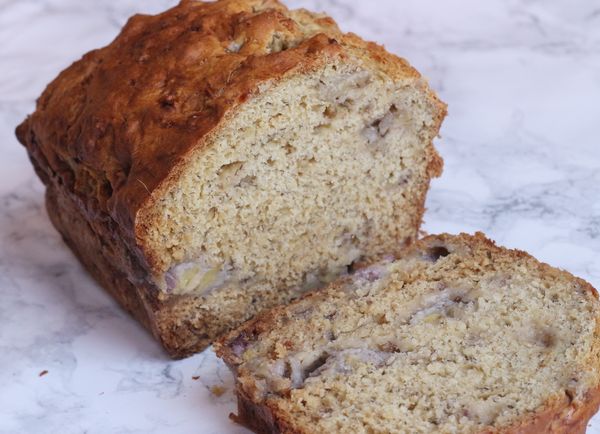 Do you see those chunks of banana?
Of course, this recipe is only a base. Add walnuts or chocolate chips for a more decadent version.
My family did enjoy this simple version and are now not going to eat any of the bananas I bring home so I will make them more banana bread. oh dear!
Please try this easy healthy banana bread recipe and tell me how it goes!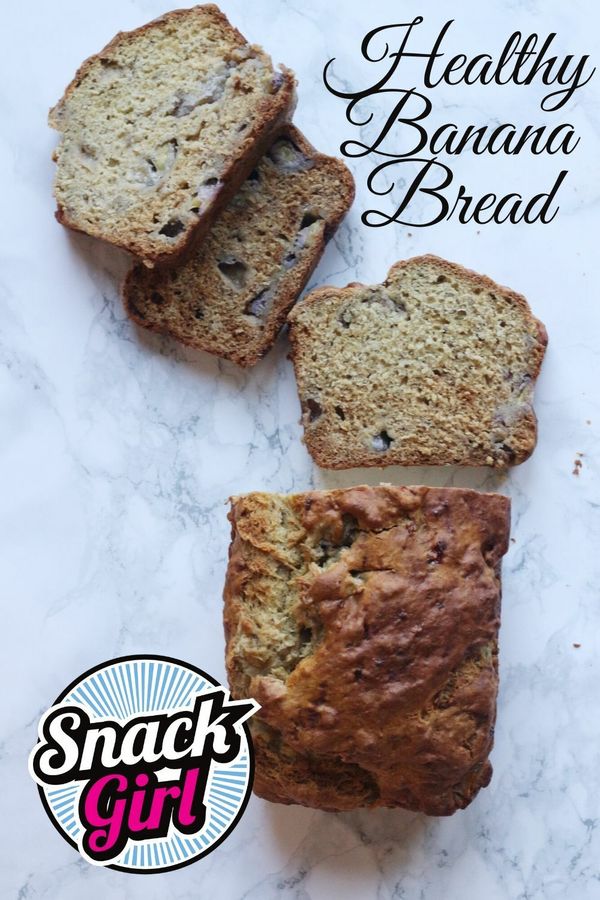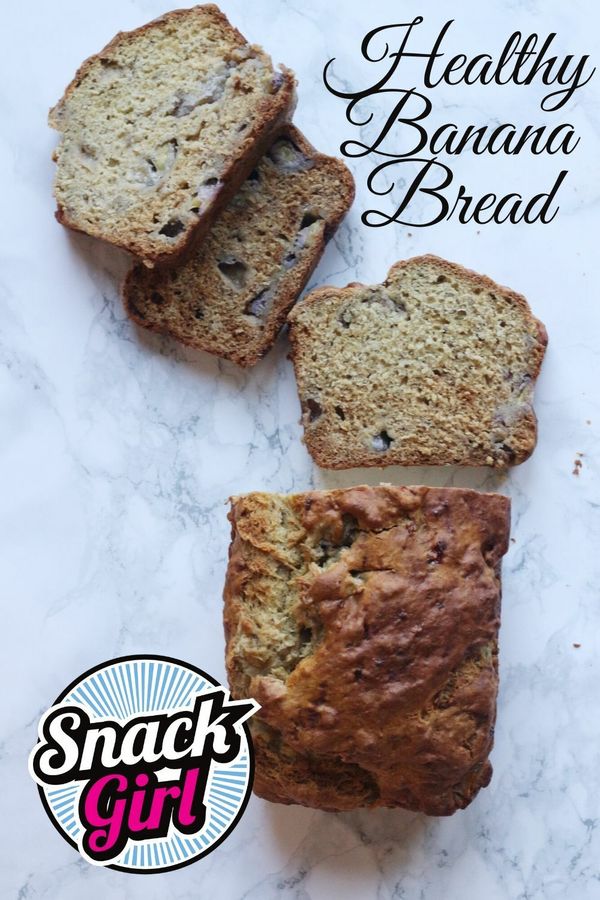 Easy Healthy Banana Bread Recipe
Makes 18 servings
Prep time: 10 min
Cook time: 60 min
Ingredients
5 ripe bananas (can be overripe)
2 tablespoons melted butter
1/2 cup packed brown sugar
1 large egg
1 teaspoon vanilla
2 cups all purpose flour
2 teaspoons baking powder
1 teaspoon baking soda
1/4 teaspoon salt
Instructions
Heat oven to 350 F and coat a loaf pan with cooking spray. Peel and mash 3 bananas in a large bowl. Cut up the last 2 bananas in chunks. Add melted butter, sugar, egg, and vanilla and mix well.
Add flour, baking powder, baking soda, and salt and mix until incorporated. Fold in the banana chunks. Put dough in loaf pan and bake for one hour until a butter knife inserted in the center of the bread comes out clean.
Cool and enjoy!
/For one slice of 18 = 112 calories, 1.8 g fat, 1 g saturated fat, 22.4 g carbohydrates, 8 g sugar, 2.5 g protein, 1.2 g fiber, 117 mg sodium, 3 Purple, 3 Blue, 3 Green WW SmartPts
Points values are calculated by Snack Girl and are provided for information only. See all Snack Girl Recipes
Other posts you might like:
---

This fast banana bread gets its speed from a waffle iron.....
---

This banana quesadilla is for that low energy time of day when you are hungry and don't want to eat junk food (but just fruit is too boring).....
---
---
Get Free Email Updates! Yes please!
---